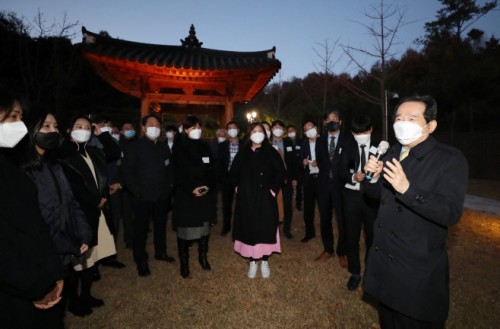 Prime Minister Chung Sye-kyun explains to reporters about facilities of his official residence ahead of a news conference marking 300 days as prime minister in Sejong, 120 kilometers south of Seoul, on Nov. 10, 2020./ Source: Yonhap News
AsiaToday reporters Lee Seok-jong
Prime Minister Chung Sye-kyun described Joe Biden's victory in the U.S. presidential election as the zeitgeist of the current era, while hinting at presidential bid.
"We need to pay attention to the zeitgeist under which the American people chose Joe Biden," Chung said during a dinner meeting with reporters at his official residence in Sejong on Tuesday. The prime minister stressed himself as a veteran politician who is able to offer the road towards national unity and inclusion.
"The American people have defeated the spirit of division, instability, confrontation and animosity by choosing Biden as the next leader as he presented the roads towards national repair, unity and inclusion. I believe that represents zeitgeist," he said.
"I believe Biden is a statesman of dignity, stability and experience. He is a person capable of inclusive politics," the prime minister said. "Such a part means a lot of us."
"I vowed to become a prime minister that prioritizes economic recovery and national unity during a parliamentary confirmation hearing," he said. "So far, I believe my top priority is alleviating people's difficulties, and I'm trying to handle tasks such as improvement of people's livelihood, economy and national unity by clearly overcoming the pandemic."
Some observers believe his emphasis on the spirit of the times is an indirect way of highlighting himself as a potential presidential hopeful.
However, his willingness to enter the race depends on a premise, which is overcoming the COVID-19 crisis, a task he has been focusing since taking office.
"Times are tougher than ever for the people," Chung said. "The role of a prime minister is very important in a situation where we are facing two major crises at once, the pandemic and economic crisis."
"I'm concentrating on faithfully carrying out my current duties, rather than other thoughts," Chung said. "I think that is my top priority," he added.
On the conflict between Justice Minister Choo Mi-ae and Prosecutor General Yoon Seok-youl, the prime minister expressed regret. He also issued a warning to Yoon, saying, "After observing his recent actions, I believe that he has to have some self-restraint."
The prime minister said that the justice minister needs to be more well-mannered and calm in carrying out task of prosecutorial reform. "I would prefer if her rhetoric was more retrained," he added.