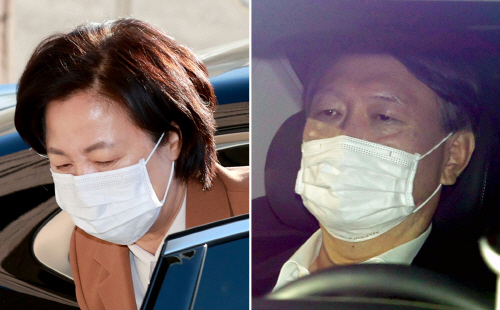 Justice Minister Choo Mi-ae (left) and Prosecutor General Yoon Seok-youl/ Source: Yonhap
AsiaToday reporter Heo Kyung-joon
"You must always keep in mind that the owner of the prosecution is the people," Prosecutor General Yoon Seok-youl said.
His remarks came in a Monday lecture on the "role of deputy prosecutor general" for 14 deputy prosecutors at the Legal Training Institute in Jincheon, Chungbuk.
"The direction of the prosecution reform should be focused on fair prosecution and the people's prosecution," said the top prosecutor. "The people's prosecution should always remember that its owner is the people."
"Fair prosecution means ensuring fair opportunities between the parties in criminal justice procedures, and should include adversarial process, trial-centered investigation structure, and thorough protection of defense rights," he said. "Fair prosecution and the people's prosecution are like two sides of a coin."
The chief prosecutor stressed the importance of the role of deputy prosecutors. "The deputy chief prosecutor's post is the hardest one among other positions in the Prosecutors' Office. They should play a role of managing administrative affairs as well as taking care of other details. While playing a role of an advisor, it should also play a role of commander," Yoon said.
On the same day, the National Assembly's Legislation and Judiciary Committee visited the Supreme Prosecutors' Office to verify the details of the use of "special activity expenses" by the Ministry of Justice and the Supreme Prosecutors' Office, but both the ruling and opposition parties said the ministry and the prosecution were ill-prepared and thus the verification process could not be done properly.
In response, the justice ministry made clear that justice minister Choo Mi-ae did not receive or use any special expenses for the prosecution unlike before. "In the verification of document on the special expenses for the prosecution supervised by the Judiciary Committee, the justice minister reported that she had never been assigned or used special expenses," the ministry said. "It has been confirmed by the Judiciary Committee members through verification process that there were no problems."
The verification process was triggered by speculations raised by the ruling Democratic Party (DP) and Justice Minister Choo Mi-ae at a plenary meeting of the Judiciary Committee on Nov. 5 where they claimed that Yoon was executing the prosecution's special expenses worth 9 billion won on his own without receipts.
The verification process was attended by DP lawmakers Baek Hye-ryun, Song Ki-heon, Kim Yong-min, Kim Nam-gook, Park Joo-min, and Choi Ki-sang, People Power Party (PPP) lawmakers Kim Do-eup, Yoo Sang-beom, Yoon Han-hong, Jang Jae-won, Jo Soo-jin, and Jeon Joo-hye, and Open Minjoo Party lawmaker Kim Jin-ae.