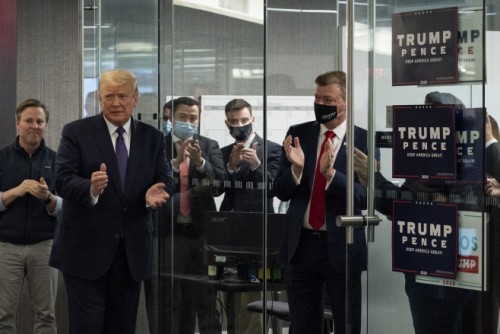 US President Donald Trump visits his campaign headquarters in Arlington, Virginia, November 3, 2020./ Source: Arlington AP=Yonhap News
Washington correspondent Ha Man-joo
As ballot counting system started on Tuesday, US President Donald Trump contiinues to take a big lead against his Democrat rival Joe Biden in major swing states. However, it is too early to predict the results of the US presidential election as Biden could turn the tables with mail-in votes.
The two candidates fought fiercely across 12 tossup states in Tuesday's election. Excluding the 12 states, Biden took a big lead with 216 electoral votes against Trump with 125.
However, Trump won Florida and its 29 electoral votes, the biggest prize among the nation's battlegrounds. Texas is expected to pick Trump, which would give him additional 38 electoral votes.
Trump also confirmed his victory in Ohio and Iowa with 18 and 6 electoral votes, respectively.
On the other hand, Biden won Arizona, a state that usually votes Republican, and took the 11 electoral votes. The Democratic presidential candidate snagged 10 electoral votes from Minnesota, a state won by Democrat Hillary Clinton four years ago. He also won Nebraska's 2nd Congressional District, granting him one electoral vote.
Trump claimed victory during a speech at the White House early Wednesday morning, saying, "To be honest, we won this election." He claimed that the results have been "phenomenal."
He declared himself the winner in Texas, Florida, and Ohio, and claimed he is winning in Georgia, Wisconsin and Michigan as well.
Trump also claimed he is winning in North Carolina, where votes are still being counted.
Trump complained about extended deadlines to count mail-in ballots, saying, "We were getting ready for a big celebration. We were winning everything, and all of a sudden it was just called off."
Biden expressed confidence in an address to supporters. "We feel good about where we are, we really do. We believe we're on track to win this election," Biden said early on Wednesday morning, in front of supporters in Wilmington, Delaware.
"It ain't over till every vote is counted, every ballot is counted," he said. "We knew because of the unprecedented early vote, the mail-in vote, that it's going to take a while, we're going to have to be patient until the hard work of counting votes is finished."
As of 3 am Wednesday, Trump was leading in five of six major battleground states, including Pennsylvania, Georgia, North Carolina, Michigan, and Wisconsin. Biden is expected to win Nevada's six electoral votes.