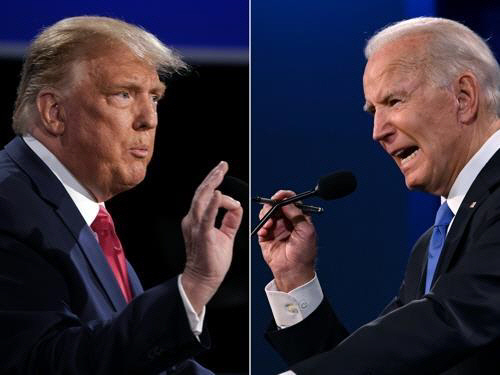 US President Donald Trump and former Vice President Joe Biden met for the last presidential debate at Belmont University in Nashville, Tenn., on November 22, 2020./ Source: Nashville AFP=Yonhap News
AsiaToday reporter Jeong Geum-min
The South Korean government is paying keen attention to the results of the U.S. presidential election held on Tuesday. This is because changes in several critical issues surrounding North Korea-US relations and the South Korea-U.S. alliance are inevitable, no matter who ends up winning the White House. If Trump wins, the U.S. will likely to maintain its policy related to the relations with two Koreas. However, he will likely to keep up pressure on the US' allies to pay their share of the defense costs. If the Democratic candidate Biden enters office, he will likely to adopt the Barack Obama administration's "strategic patience" while further strengthening the ROK-US alliance. As a result, the South Korean government is fully preparing for scenarios that could materialize after Tuesday's election.
According to multiple government officials on Tuesday, the Foreign Ministry set up a massive taskforce in August to analyze the two candidates' election pledges and their basic positions on major issues that could affect Seoul's foreign policy. Led by First Vice Foreign Minister Choi Jong-kun, the team consists of 25 officials from bureau in charge of North America affairs, nuclear negotiation with Pyongyang and bilateral economic affairs, among others.
The diplomatic authorities plan to focus on managing Korean Peninsula issues and the ROK-US alliance regardless of who ends up in the White House. Many predict that the foreign ministry is preparing to discuss various complex bilateral issues with the next US administration, including the stalled defense cost-sharing negotiations as well as the OPCON transfer and more.
Under such circumstances, Foreign Minister Kang Kyungwha is slated to meet her counterpart US Secretary of State Mike Pompeo in Washington after the election, though the exact timing hasn't been decided yet. The foreign minister may try to check who will be in charge of foreign affairs and defense for the new US administration and may reach out to the Biden camp during her trip.
The Unification Ministry, who has not set up its own task force, is reportedly conducting extensive discussions on the US presidential election, presided by unification minister Lee In-young. In particular, it is reviewing each candidate's North Korea policy while adjusting ways to coordinate with the country's North Korea policy.
The unification minister could also visit Washington after the election, observers said. "A press conference will be held soon, and there will be a good chance to answer to Lee's possible trip to Washington," an official from the unification ministry said on Tuesday.
The official has neither confirmed nor denied Lee's possible visit to Washington, but said, "It's not that the visit has been decided or not. Please ask questions on comprehensive matters at the upcoming press conference."
The Defense Ministry is also paying attention to the US election as the outcome is expected to affect an overall defense issues.