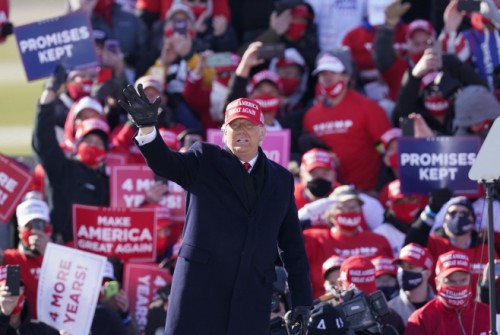 US President Donald Trump waves his hand during a campaign rally at Dubuque Regional Airport, Nov. 1, 2020./ Source: Dubuque AP=Yonhap News
Washington correspondent Ha Man-joo
The US election will be held on Tuesday, November 3, amid concerns about exposure to the coronavirus at Election Day voting places, pushing up the numbers of people voting by mail or at early in-person polling sites.
At the beginning of this year, many had predicted that US President Donald Trump would be successfully re-elected. However, with two days to go until Election Day, many polls have shown that Trump is likely to become the first incumbent president to lose re-election since fellow Republic George H.W. Bush in 1992.
An election for president of the United States happens every four years on the first Tuesday after the first Monday in November. The next presidential election will be November 3, 2020. Along with electoral votes, all 435 seats in the United States House of Representatives, 35 of the 100 seats in the United States Senate will be contested on Election Day.
Democrats are all but certain to keep their majority in the House of Representatives. Republicans are fighting to hold a slim 53-47 majority in the Senate.
If Democrats manage to hold the House of Representatives and win back the Senate and the White House, the party will have full control of the federal government.
In the RealClearPolitics national polling average, Democratic presidential nominee Joe Biden maintains a steady 7.2% lead over US President Donald Trump.
However, it is still hard to predict just who is going to win as Mr. Biden's advantage in six swing states, which will play a significant role in determining who wins the White House, is within polls' margin of error. Besides, Trump is narrowing the gap with Biden with his whirlwind campaign blitz of swing states.
Biden leads slightly in Sun Belt swing states. Biden is leading by 0.7% in Florida, 0.3% in North Carolina, and 1.1% in Arizona. Trump's victory is more likely considering Biden's narrow lead and the controversial "shy Trump voters," who are distorting the polling.
However, Biden has clear leads in the Rust Belt states of Pennsylvania, Michina, and Wisconsin by 4.3%, 6.1%, and 6.6%, respectively, casting a bleak outlook on Trump's re-election prospects.
Biden is expected to win 216 electoral votes in those states classified as "solid', "likely", and "leans." Winning the three critical Rust Belt states, plus the favorable states, would put Biden quite close to the magic number of 270 electoral votes.
Besides, Minnesota's 10 electoral votes could confirm Biden's victory in the election.
Besides, early and mail ballot votes that are tallied in advance and released first are expected to be more favorable to Biden, as more Democrats are voting early by mail than Republicans. After weeks of early and mail voting, at least 90 million Americans have already cast their ballots for the election.
However, millions of mail-in ballots have yet to be returned in key battleground states, raising concerns that the ballots mailed after October 20 will not likely to arrive in time to be counted in the election.