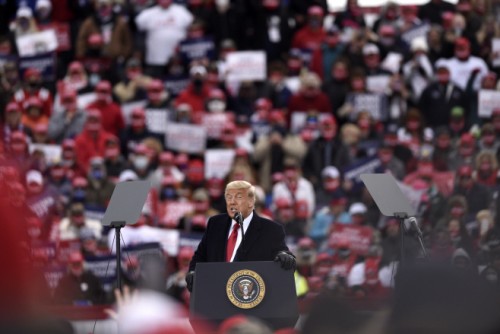 U.S. President Donald Trump holds a campaign rally at Reading Regional Airport on Saturday, Oct. 31, 2020./ Source: Reading AP=Yonhap News
Washington correspondent Ha Man-joo
With just a few days to go until the U.S. election, many polls show that Trump-Biden racial gap is shrinking. The poll gap is narrowing within the margin of error in key swing states, which could determine the outcome of the presidential election.
The recent RealClearPolitics' (RCP) gauge of polls in six crucial battleground states – Pennsylvania, Michina, Wisconsin, Florida, North Carolina and Arizona – showed Biden with a 3.1-point lead over Trump, down 1.1-point from 4.2 percentage point on the previous week.
The most interesting thing was that Trump was leading Biden by 0.6% in Arizona, which has 11 electoral votes in the Electoral College, for the first time in the past few months.
Trump is fiercely chasing Biden by 1.2 percentage points in Florida and North Carolina, with 29 and 15 electoral votes, respectively. The race is too close to call since the gap in these two states is within the margin of error, along with Pennsylvania where Biden is 3.7 percentage points ahead of Trump.
The polling averages reflect a tossup in Michigan, which has 16 electoral votes. The RCP average has Trump down 6.5 percentage points. Every recent poll has found Biden leading with the exception of Trafalgar, whose new poll found Trump ahead by 2 points. The latest Trafalgar poll was conducted to 1,058 likely voters from Oct. 25-28, 2020.
Rasmussen, one of the very few predictors who called a Trump victory in 2016, analyzed that Trump is leading by 3 points in Arizona and 2 points in North Carolina in its recent survey.
On the other hand, FiveThirtyEight said Trump was likely to win 10 out of 100 times in its simulation of over 40,000 vote totals while Biden has around a 90 percent chance of winning, saying there hasn't been any real sign that the race is tightening.