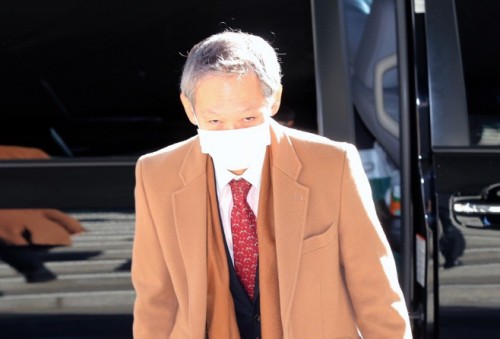 Shigeki Takizaki, head of the Japanese foreign ministry's Asian and Oceanian affairs bureau, arrives at the foreign ministry in Seoul on Oct. 29, 2020./ Source: Yonhap
AsiaToday reporter Jeong Geum-min
South Korea and Japan held their first working-level talks since Japanese Prime Minister Yoshihide Suga took office last month, but only reaffirmed the difference in position over Tokyo's wartime forced labor and export curbs.
Concerns are raised that a planned trilateral summit between Korea, Japan and China may be cancelled as Tokyo revealed that Suga will not visit Seoul to attend the meeting unless the bilateral friction over compensation for wartime forced labor is resolved.
Kim Jung-han, director general for Asia and Pacific affairs at the foreign ministry, held a meeting with his Japanese counterpart Shigeki Takizaki on Thursday in Seoul, where he highlighted the need for Tokyo to show a more responsible attitude to settle the forced labor issue, and called for the swift retraction of export restrictions against Seoul.
Kim also recalled the need for Tokyo to actively respond to the Seoul government's efforts to host the trilateral summit with Japan and China within this year, while delivering South Korea's acute awareness and serious concerns on Japan's potential discharge into the sea of contaminated water from its Fukushima nuclear plant.
In response, Japan repeatedly argued that all such claims involving wartime forced labor were settled by a 1965 treaty between the two sides, and protested against the liquidation of assets of a Japanese firm seized by a South Korean court.
Immediately after the Thursday talks, the Japanese foreign ministry issued a press release saying that liquidation of assets of Japanese companies could bring about a "serious situation", adding that it "must be avoided" by both sides. "The Tokyo government strongly demanded that Seoul present early measures that are acceptable to Japan," it said.
The Japanese government has warned that the liquidation of Japanese assets could lead to a grave situation in bilateral relations. South Korea has taken steps to auction off some of the South Korea-based assets owned by Nippon Steel Corp. to cash them out for the compensation as the Japanese firm refused to comply with the court ruling. The South Korean government has expressed willingness to resolve the issue through dialogue until both sides find a satisfying solution, while respecting the judiciary's ruling.
However, both sides agreed that it is important to continue communication and consultations to resolve various issues. "Today's meeting is not meaningless. The Japanese side also recognizes the need of dialogue with the launch of a new cabinet and has a willingness to solve issues," the South Korean foreign ministry said.
Japan's foreign ministry also said, "The two diplomats decided to continue communication between the governments."