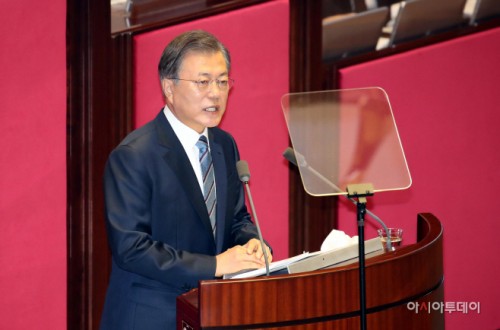 President Moon Jae-in delivers a speech on the state budget for 2021 at the National Assembly in Seoul on Oct. 28, 2020./ Photographed by Lee Byung-hwa
AsiaToday reporters Lee Seok-jong
President Moon Jae-in said his administration has drawn up a 555.8 trillion-won (US$469.8 billion) budget bill for 'overcoming the era of crisis to rise as a leading nation.' The president urged for cooperation of lawmakers to approve the government's 2021 budget during a speech at the National Assembly on Wednesday.
Moon stressed that a clear rebound is crucial for the South Korean economy, and said, "It is time to operate full-scale measures to invigorate our economy to put it on the normal track starting next year."
Moon pledged to provide support to develop COVID-19 vaccines, and conduct a thorough investigation on the shooting death of a fisheries official by North Korean troops near a western border island. The president asked for the swift passage of bills on reforming the police and the state spy agency, as well as a package of fair economy bills involving revisions to the commercial, fair trade and financial group supervision laws. Moon also requested bipartisan support to launch the Corruption Investigation Office for High-ranking Officials.
Moon's parliamentary speech reflects his strong will to catch "two rabbits" – a clear economic recovery and a win in the antivirus fight - at the same time without fail. Through this, Moon said he aims to make South Korea become a leading country in the post-coronavirus era.
"While maintaining an advanced and systematic quarantine system, we will make a clear economic rebound," Moon said. "We will accelerate our efforts to overcome the crisis and lead the future by pushing the Korean version of the New Deal."
Stressing that economic recovery is the top priority; Moon said job creation is the starting point as well as the most important issue associated with people's livelihoods. Moon said the government aims to protect 460,000 jobs, and create 570,000 new jobs through subsidies.
Saying that consumption, investment and exports are key to revitalizing the economy, Moon said the government will issue 18 trillion won worth of gift certificates that can only be used at small businesses and traditional marketplaces, inject 72.9 trillion won worth of policy funds to facilitate investment, and additionally supply 5.8 trillion won in trade policy funds.
"The Korean New Deal is a national transformation project to become a leading country, and a national development strategy which entails a total of 160 trillion won of investment," Moon said. "A total of 32.5 trillion won, including 21.3 trillion won from government expenditure will be allocated for the creation of 360,000 jobs," he said.
Moon explained that he will inject 7.9 trillion won in the Digital New Deal projects and 8 trillion won in Green New Deal projects while investing 5.4 trillion won in strengthening the safety net and nurturing human resources, which are the foundation of the Korean version of the New Deal.
The president said the government aims to strengthen the country's new growth engines by investing 4 trillion won in three key industries, including system semiconductors, biohealth and future cars. "We will invest 3.1 trillion won in the data, network and artificial intelligence sectors – the core foundations of the fourth industrial revolution – and 5.5 trillion won in our existing flagship industries such as manufacturing," he said.
Moon said that Korea aims to become a "global material, parts and equipment industry powerhouse" by expanding 100 key management items that had been targeted at Japan to 338 worldwide.
"Next year, 46.9 trillion won will be injected to further strengthen the four social security nets of livelihood, medical, housing and education," Moon said. Planned measures include easing regulations to allow more people to receive government subsidies, supplying 190,000 public housing, and more.