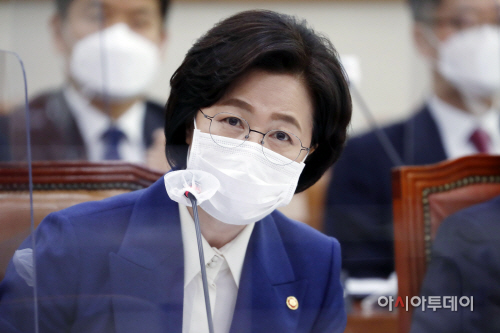 Justice Minister Choo Mi-ae attends an annual parliamentary audit of her office at the National Assembly in Seoul on Oct. 26, 2020./ Photographed by Lee Byung-hwa
AsiaToday reporter Lee Wook-jae
Until the last day of the parliamentary audit, the ruling and opposition parties continued to slam each other over controversy between Justice Minister Choo Mi-ae and Prosecutor General Yoon Seok-youl. In the end, the justice minister announced a plan for additional inspection on the prosecutor general. It seems Choo struck back against Yoon, who made controversial remarks during the recent parliamentary audit of the prosecution.
During the parliamentary audit of her office on Monday, Choo said the justice ministry will launch a probe into why Yoon prematurely dropped an investigation into a hedge fund scandal surrounding Optimus Asset Management when he was the head of the Seoul central district prosecutors' office.
The Korea Communications Agency (KCA), which previously invested tens of billions of won in Optimus, had an audit on this in 2018 and asked the Seoul central district prosecutors' office for a probe into the case. However, the prosecutors' office dismissed the case without charge. In response, Yoon revealed in the previous parliamentary audit why he dropped the investigation, saying, "It did not cause any damage (by then). The agency requested for investigation after retrieving the investment."
During the audit, Kim Jong-min of the ruling Democratic Party (DP) pointed out, "All that was really required was the tracing of bank accounts. But the investigation was led by Yoon Seok-youl's team. It is necessary to check whether the central district prosecution under Yoon's leadership handled the financial scam case properly."
In response, Choo said, "It is difficult to be sure, but the district office seems to have not done that. We plan to inspect this."
The minister also took issue with Yoon's response at the audit which seemed as if he was not aware of the case. "It has been reported that the prosecutor general denied most of allegations during the audit. There are also doubts over the fact that he was not aware of the case. Therefore I ordered a joint inspection between the justice ministry and the Supreme Prosecutors' Office," the minister said. ".
The minister also hit back against the top prosecutor, who claimed that the chief prosecutor is not a subordinate to the justice minister. "That was an unfamiliar remark. I believe some of his statements crossed the line as chief prosecutor. I am embarrassed as his commanding supervisor," she said.
"It is very regrettable that Yoon is being dragged into the swamp of politics when the prosecutor general must lead the organization neutrally," Choo said.