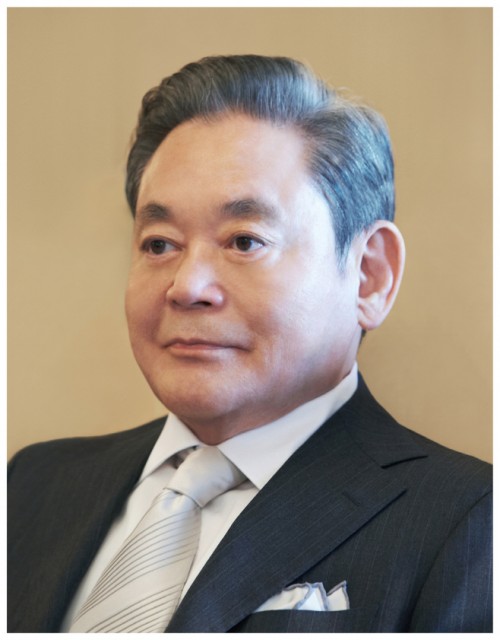 Late Samsung Group Chairman Lee Kun-hee
AsiaToday reporter Jeong Seok-man
A great star in the Korean business community has fallen. Samsung Group Chairman Lee Kun-hee died at the age of 78 at Samsung Medical Center in Seoul on Oct. 25. It has been six years since May 2014 when he collapsed at his home in Itaewon-dong, Seoul following a heart attack.
Samsung said Lee died with his family members, including his son and de facto company chief, Lee Jae-yong, by his side. The funeral is likely to be four days long, ending with Lee's burial on Wednesday. Lee will be buried in Samsung family's burial ground in Yongin, Gyeonggi Province. President Moon Jae-in sent condolence message to the family of late Samsung head.
Lee took the Samsung crown in 1987 at the age of 45 when his father Lee Byung-chull, founder of the conglomerate, died. Born in 1942 in Daegu, Lee was raised by his grandmother until he was 3. In 1947, Lee reunited with the whole family as they moved to Seoul. In 1953, Lee was sent to Tokyo to study, as his father told him to "watch and learn from an advanced country."
After graduating from Waseda University in Japan and George Washington University's Graduate School of Business, he met Hong Ra-hee, who was attending the department of applied art at Seoul National University, in 1966, and married her the following year. In the 1970s Lee to sought to enter the high-tech industry by traveling through Silicon Valley in the U.S. and began taking business management training as a successor to Samsung Group when he was promoted to vice chairman of Samsung C&T in 1978.
Since taking office as chairman, Lee led the tech giant to become the world's leading player in the semiconductor and mobile phone sectors with his bold decision and unrivaled sights, making the corporate stand at the center of the South Korean economy.
In 1974, Lee acquired Korea Semiconductor with his own asset, and merged Samsung Semiconductor & Telecommunications Co. with Samsung Electronics to boost focus in the semiconductor sector, which bore fruition when the company developed the world's first 64-megabite dynamic random-access memory (DRAM) chip in 1992. The company became the top global memory chip maker the following year.
Behind the dramatic transformation of the company was the chairman's declaration of "New Management," which was made in Frankfurt in 1993. "Change everything except your wife and children," he said at that time, emphasizing the importance of product quality, over and above production volume. His order to burn 150,000 defective Anycall mobile phones in 1995 was part of efforts to prioritize quality.
The efforts paid off. In 2006, Samsung overtook Japan's Sony to become the No. 1 in the global TV market. It also gained the top spot in the global smartphone market, beating Apple.
Samsung's annual revenue was less than 10 trillion won in 1987, but the figure grew to 386 trillion won as of 2018. Its total market capitalization also increased by 396 times from 1 trillion won to 396 trillion won.
Business circles mourned the death of Samsung chairman, recognizing his business acumen that turned the company into a global consumer electronics giant. The Korea Chamber of Commerce and Industry (KCCI) praised Lee for "exceptional and innovative business management and building Samsung as a global blue-chip company." "Chairman Lee brought confidence that we can be the world's best," it said.
Samsung Group set up an online memorial hall for the late chairman via the company's internal system.
The funeral will be a small family affair, Samsung said.