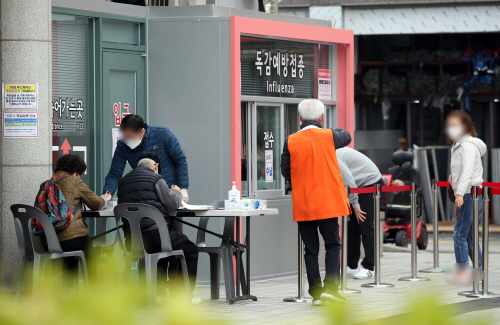 Fewer people than ever wait in line at a hospital in Seoul on Oct. 22, 2020, to get flu shots amid rising deaths among people who had recently received the vaccination./ Source: Yonhap
AsiaToday reporters Choi Hyun-min & Chun Hyun-bin & junior reporter Kim Ye-seul
◇ Public fears emerge in Incheon over the safety of flu shots
Public fears are growing over the safety of the flu shots as more people have died after receiving injections over the past week. Health authorities are carrying out autopsies and epidemiological investigations to find a potential link between deaths and flu vaccines. The Korea Disease Control and Prevention Agency (KDCA) said Wednesday there are no plans to suspend the state-run free vaccination program as a preliminary investigation into the deaths found no direct connection with the vaccine they had received. Many lawmakers urged the government to review suspending flu vaccinations until their safety is certain. However, the government says more than 1,000 people die from flu every year in South Korea and it is important to get vaccinated in order to curb the possible "twindemic" this year.
Fears emerged in the western port city of Incheon. A 17-year-old boy died last Friday, two days after receiving a free flu shot at a private medical institution in Muchuhol Ward in Incheon. We paid a visit to the city on Wednesday.
First, we headed to the police station and public health center to hear the story the family of the teenager, but the agencies were very cautious in telling his identity and the link between the death and the flu shot. "Concerns over communal setting have grown due to the pandemic. Schools have recommended students to get vaccinated for safety reasons. But if the student's identity is revealed, its impact will be immense," an official from Michuhol Police Station said.
"The National Forensic Service has listed the cause of death as unknown. The cause of death would be determined when accurate autopsy results come out. But a detailed autopsy can take a week or up to several months," the official added. "It is not yet known whether the boy had underlying conditions," an official at the Michuhol public health center said. "For now, it is difficult to find a link between death and the vaccine."
Citizens are anxious. "My family was going to get vaccinated this weekend, but I think we should put it off," said A, a 38-year-old living in Michuhol Ward. "I was shocked when I heard that a healthy teenager about the same age as me died. I've suspended my plan to get vaccinated," said B, an 18-year-old boy attending a high school in Michuhol Ward.
"I came to get a flu shot because I'm worried that I'll have to walk on eggshells if I catch the flu because of COVID-19," said Ahn Jung-hee, 37. "I called several hospitals to find whether the vaccine was available. But there were only few hospitals where the flu shots were available. But I told my mother and mother-in-law to not get vaccinated because most of the death cases were elderly people," she said.
Surprisingly, some hospitals were even crowded with people who came to get the flu shot. They were eager to get vaccinated, asking questions such as "Who is the manufacturer" and "Is there any difference between free flu shots and paid ones?"
"There aren't many people who cancel their reservation to get a paid flu shot because all the people who died received a free flu shot. Frankly speaking, vaccines for children under the age of 12 are insufficient," an otolaryngology official said. "Even those who got a flu shot in mid-September are calling to see if there is any problem with the vaccine," another official said.
◇ The bereaved family who refused autopsy
When we arrived at Gochang around 1 p.m. on Wednesday, we were not sure where to go. The only thing we knew was that a 78-year-old woman was found dead at her home after receiving a flu shot a day earlier in Gochang, about 300 kilometers south of Seoul.
We first visited Gochang-gun Health Center to check the funeral hall of the deceased and whether an autopsy was in progress. "We do an autopsy on cases with vaccine adverse reaction, but the family refused to do an autopsy," an official of the public health center said. "We have requested an autopsy to the National Forensic Service. This was possible because of the consent of guardian."
We wondered why they changed their mind after refusing an autopsy at first. We headed to the funeral hall. It was easy to find them. There weren't many visitors, but the atmosphere at the funeral hall was heavy and it was difficult to talk to the family.
After hesitating for a while, I carefully asked the bereaved about the woman's health condition and the reason to do an autopsy. But they refused to answer, saying, "We are not going to talk with you. Please leave," the family said.
So we headed to the clinic that gave a flu shot to the woman. However, the hospital was closed. We went to a pharmacy located in the same building as the clinic, and asked whether the clinic was open. "The director of the hospital has taken a day off because he was in bad condition."