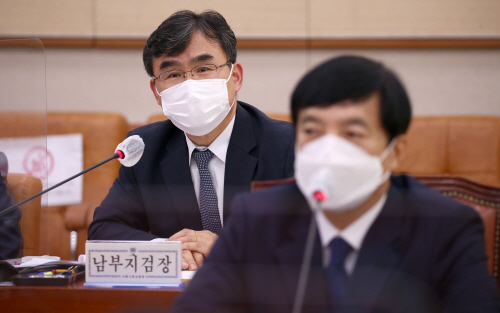 Park Soon-cheol, the chief of the Seoul Southern District Prosecutors' Office, answers questions of lawmakers during the National Assembly Legislation and Judiciary Committee's interrogation session of 10 prosecution districts in the Seoul metropolitan area on Oct. 19, 2020./ Source: Yonhap
AsiaToday reporter Lee Wook-jae
The prosecution formed an investigation team after Kim Bong-hyun, a key suspect in a financial fraud scandal involving Lime Asset Management, claimed in a written statement last Friday that he lobbied prosecutors and politicians of both the ruling and opposition blocs. The move came after its oversight body, the Justice Ministry, asked the prosecutors to investigate Kim's lobbying claims.
During the National Assembly Legislation and Judiciary Committee's interrogation session of 10 prosecution districts in the Seoul metropolitan area on Monday, Democratic Party (DP) lawmaker So Byung-chul asked Park Soon-cheol, the chief of the Seoul Southern District Prosecutors' Office, if the prosecutors investigated whether former Star Mobility chairman Kim Bong-hyun had lobbied prosecutors. In response, Park said he couldn't confirm, but revealed that the Seoul Southern District Prosecutors' Office formed an investigation team.
In Kim's recent statement, he claimed that he had thrown a drinking party, worth 10 million won ($8,750), for three incumbent prosecutors last year to buy favors. He also said he had offered billions of won in bribes to a prosecutor-turned-opposition politician. Rival parties went after each other's alleged connection to the financial scandals during the parliamentary audit.
In response to a series of questions from ruling party lawmakers in relation to the Lime scandal, Park said, "The justice ministry has requested an investigation. We will make efforts to clear popular suspicion in the near future." The justice ministry explained that it identified some of the prosecutors facing the financial allegations. "The ministry requested an investigation on them for violation of the Improper Solicitation and Graft Act," the ministry said.
When asked whether it was reported to Prosecutor General Yoon Seok-youl, Park said Song Sam-hyeon, who headed Seoul Nambu District Prosecutors' Office at the time, reported it to the prosecutor general in May. Park made it clear that he had formally reported it in document to the Supreme Prosecutors' Office shortly after taking office in August, but he first heard about the prosecutors' bribery allegations when Kim revealed it.
The Justice Ministry suspects that the prosecution failed to thoroughly look into the lobbying of prosecutors even though the prosecutor general was heard about the case. On the other hand, Yoon's office denied the claims, saying the ministry is accusing the prosecutor general of wrongdoing with no supporting evidence. "The announcement from the Justice Ministry is totally groundless, and it is an attempt to slander the prosecutor general," the Supreme Prosecutor's Office said in a statement.
Yoon denied the claims in a media interview, saying, "That is nonsense. Why would I call off the investigation?"