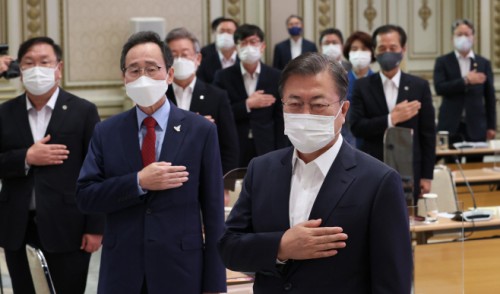 President Moon Jae-in salutes the national flag at a meeting on Korean New Deal strategies at Cheong Wa Dae in Seoul on Oct. 13, 2020./ Source: Yonhap News
AsiaToday reporter Lee Jang-won
President Moon Jae-in on Wednesday ordered his office Cheong Wa Dae to "cooperate actively" with the state prosecutors' ongoing investigation into a high-profile financial fraud and corruption scandal allegedly involving some former and current senior government and ruling party officials "to (help) clear (related) suspicions fast." The presidential office has been reluctant to provide related information based on the Official Information Disclosure Act (OIDA), however it has changed its position upon Moon's instruction. It seems to reflect the president's willingness to take the bull by the horns in order to stop the prolonged controversy amid rumors of the government and ruling camp figures' involvement in the Lime and Optimus hedge fund scandals.
The Moon Jae-in administration has apparently taken a quick response following concerns that it could lose its steam in the second half of its term as it has been already under fire for its poor handling of a recent killing of a South Korean civil servant by North Korean troops near the sea border.
According to presidential spokesperson Kang Min-seok on Wednesday, Moon stressed to his aides that nothing should be off limits to the prosecution's investigation. Cheong Wa Dae plans to submit other related materials in case of requests by the prosecution service.
It has been reported that Moon made the instruction after receiving a briefing on media reports stating that the prosecution had requested surveillance footage of former senior presidential political secretary Kang Ki-jung's meeting with former Star Mobility CEO Lee Kang-se. His move seems to be aimed at forestalling criticism that Cheong Wa Dae refused to prosecution's investigation amid allegations that Kang took a bribe of 50 million won (US$43,000) from former Star Mobility Chairman Kim Bong-hyun, who is a primary suspect in the financial fraud case. Some observers say Cheong Wa Dae made such move with confidence that it would not be hit hard by the prosecution's probe.
However, the Cheong Wa Dae spokesman said the surveillance footage requested by the prosecutors in July does not exist now, with the preservation period having expired.
The Blue House did not say much about a female official at the presidential civil affairs office involved in the financial scandal. A key official of the presidential office said, "It is difficult to confirm things related to the presidential civil affairs office."
The main opposition People Power Party (PPP) called for a special counsel investigation into the alleged involvement of the government and ruling camp figures in the fund scandals. On a local radio program on Wednesday, PPP floor leader Joo Ho-young said the public will only trust an investigation conducted by either a special team formed by Prosecutor General Yoon Seok-youl or a special counsel.
In response, the ruling Democratic Party (DP) urged the main opposition party to stop raising groundless suspicions. "The ongoing parliamentary audit is not a place to spread groundless allegations," DP floor leader Kim Tae-nyeon said. Kim expressed regret over what he called the main opposition's attempt at escalating political strife and urged to wait for the outcome of the probe.