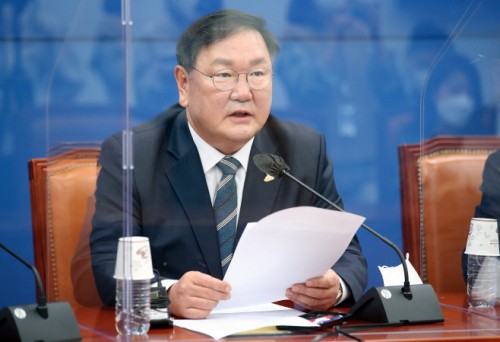 DP floor leader Kim Tae-nyeon speaks during a press conference at the National Assembly on Oct. 4, 2020./ Photographed by Song Eui-joo
AsiaToday reporter Lim Yoo-jin
Rival political parties clashed over major financial fraud scandal involving two private equity investment companies, Lime and Optimus, during a parliamentary audit on Tuesday. The ruling Democratic Party (DP) focused on blocking accusations and speculation of the possible involvement of political figures in the liberal bloc, criticizing the opposition party for "indiscreet political attacks." On the other hand, the main conservative People Power Party (PPP) called for a special counsel probe into the allegations, claiming it is a typical 'power-related corruption gate.'
The ruling DP took a counterattack against the opposition party, asking them to provide enough evidence to support their claim instead of groundless suspicions. "The Lime and Optimus scandal is a financial fraud case of private equity funds," said DP floor leader Kim Tae-nyeon. "The People Power Party claims that it is a power-related corruption case, but if there are any supportive reasons, don't hide them and disclose them proudly."
Kim said the opposition's claims were groundless and exaggerating.
In a closed meeting, Kim said, "The Lime and Optimus case is emerging as a hot button political issue, but we have not found any worrisome things yet when we investigated the case directly." Since growing suspicions can affect the ruling party, many DP lawmakers believe that the party should respond smoothly.
Meanwhile, the People Power Party suspected that DP Chair Lee Nak-yon and Gyeonggi Province Governor Lee Jae-myung may be involved in the hedge fund scandal. They apparently took aim at the ruling party's leading presidential hopefuls with next year's by-election and presidential election in mind by highlighting the financial disaster as a case of government-related fraud.
PPP floor leader Joo Ho-young refuted Lee Nak-yon's remarks that the alleged involvement of ruling camp figures in the scandals seems to be false. Joo said it would be rash for Lee to conclude that the allegations are false, accusing Lee of offering a guideline to the prosecution investigating the allegations.
PPP Rep. Sung Il-jong, a senior member on the parliamentary national policy committee, said in a radio show that if the accused feel the accusations are unfair, all they need to do is explain themselves. Sung also suspected that Gyeonggi Province Governor Lee Jae-myung may be involved in the scandal, saying that the governor met with former Prosecutor General Chae Dong-wook, a former advisor to one of the controversial asset management firms.
The main opposition party demanded a special investigation into the financial disasters, saying Justice Minister Choo Mi-ae cannot be trusted.