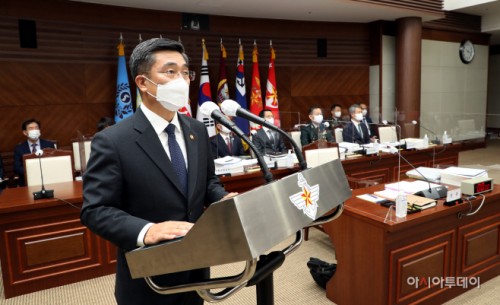 The first annual audit of the government under the 21st National Assembly kicked off Wednesday. The photo shows Defense Minister Suh Wook speaking during the National Defense Committee session held in Seoul on Oct. 7, 2020./ Source: The Korea Defense Daily
AsiaToday reporter Kim Hyun-goo
The first annual audit of the government under the 21st National Assembly kicked off Wednesday. The ruling and opposition parties clashed over two issues, including the recent shooting death of a South Korean fisheries official by the North Korean military and the alleged extension of medical leave granted to Justice Minister Choo Mi-ae's son during his mandatory military service in 2017. The rival parties also quarreled over the selection of witnesses.
The assembly's 17 standing committees, including the Legislation and Judiciary Committee, the National Defense Committee and the Strategy and Finance Committee, will hold inspection hearings to scrutinize the management of the central and regional governments as well as their agencies during the parliamentary audit, which runs until Oct. 26.
The Defense Committee, which audits the Ministry of National Defense, has come under the spotlight among others due to controversies involving North Korea and military-related matters. In fact, ruling and main opposition lawmakers under the committee locked horns as soon as the committee opened an inspection hearing.
Lee Chae-ik of the main opposition People Power Party (PPP) requested the ruling Democratic Party (DP) to summon witnesses, saying, "It is fair to carry out the audit with the part of calling in witnesses and references having been improved."
The Defense Committee has only voted on a bill involving the parliamentary audit plan and calling in witnesses on Tuesday, and has not yet selected any general witnesses.
The quarrel over the selection of witnesses between the two parties also took place during other committee sessions. During the hearing of the agriculture and fisheries committee on the first day of the parliamentary audit, the rival parties clashed over whether to call in the brother of the slain fisheries official to take the witness stand for the inspection hearing.
"We need to call in the family member of the deceased official as a witness for the fisheries committee's inspection hearing tomorrow," said PPP lawmaker Jeong Jeom-sig.
On the other hand, DP lawmaker Kim Young-jin insisted that fact-finding must come first, saying, "It is not unreasonable to listen to their story after the investigation is complete."
Similar bickering took place during the Legislation and Judiciary Committee session.
"All of the witnesses demanded by the party were not endorsed because the Democratic Party did not agree," PPP lawmaker Chang Je-won said. "The ruling party is using its majority to deprive the opposition party of its right to audit," he added.
In response, the ruling party stressed that the prosecution's investigation has not been completed, and that there is no precedent for selecting general witnesses in specific cases.
The rival parties are likely to continue to quarrel over the selection of witnesses during the audit.