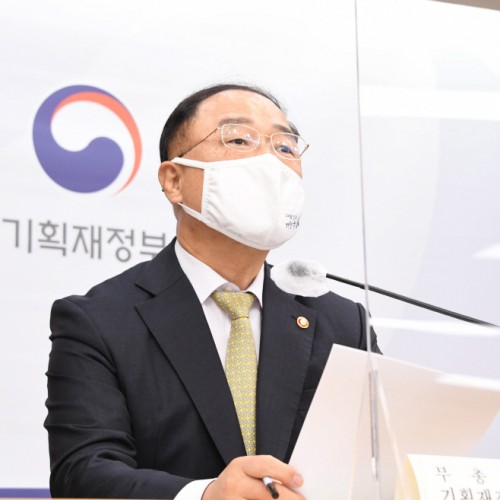 Finance Minister Hong Nam-ki speaks in a briefing held Sejong Government Complex on Oct. 5, 2020./ Source: The Ministry of Economy and Finance
AsiaToday reporter Lee Ji-hoon
The government plans to limit debt at 60 percent of gross domestic product and its fiscal deficit at 3 percent from 2025, according to planned finance ministry fiscal rules released Monday. Such rules, however, will be exempted in a time of economic crisis, such as the coronavirus pandemic.
Introducing the plan in a briefing, Finance Minister Hong Nam-ki said that the government has devised a fiscal rule suitable for the nation by setting standards for the national debt and the deficit in a way commonly used in countries around the world. "The fiscal rules are to be temporarily waived or eased in times of serious national disaster or crisis," Hong added.
Under the rules, the government plans to keep the nation's debt-to-GDP ratio to 60 percent. The figure took into account conditions such as the level of national debt that soared to 43.9 percent this year due to the fourth extra budget, an aging population, and mid-to-long term outlook.
The government also plans to keep its consolidated fiscal balance at minus 3 percent, considering the mid-to-long term fiscal conditions and the debt levels of other developed economies.
If either factor exceeds its threshold, then the government will make adjustments so that the other meets the target.
The new limits can be temporarily relaxed in times of economic crisis or large-scale disaster. In such event, the increase in the debt ratio due to the crisis response will not be reflected in the first year, but will be added by 25 percent over the next three years. The specific standard for the crisis will be established through consultation with experts.
Besides, it the national economy slows down according to potential GDP as well as employment and production indicators, the government will ease its consolidated fiscal balance standard by 1 percentage point to minus 4 percent. Considering the phase of the business cycle, the easing period will be limited to a maximum of 3 years.
The government plans to make every effort to strictly comply with the proposed rules. Since the government is still dealing with the COVID-19 pandemic, the fiscal rules will be implemented from 2025 and will be reviewed every five years in consideration of changes in the fiscal environment.
The government plans to finalize the plan and submit it to the National Assembly.