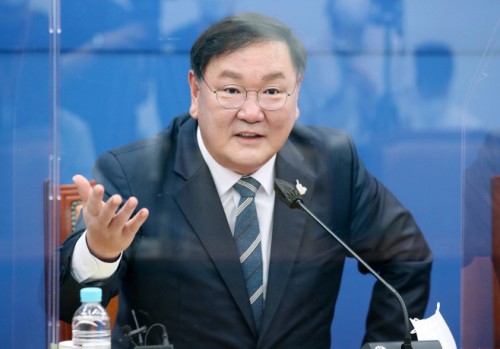 DP floor leader Kim Tae-nyeon speaks at a press conference at the National Assembly on Oct. 4, 2020./ Photographed by Song Eui-joo
AsiaToday reporter Lim Yoo-jin
"The whole nation is in a difficult situation. We urge political parties to stop making troubles and start easing the fatigue of the public."
During Chuseok, the Korean fall harvest holiday, public sentiment nationwide has focused on a desire to enhance the local economy as the people's livelihoods are in a serious situation due to the COVID-19 pandemic. As this year's annual audit is scheduled for Oct. 7-26, the people actively ordered the ruling and opposition parties to cooperate and to make efforts to revive the public economy and overcome difficulties from COVID-19.
However, the rival parties on Sunday showed a subtle gap in conveying the public sentiment during Chuseok while agreeing that there was public demand for political cooperation to alleviate the burden on their livelihood amid the COVID-19 crisis.
The ruling Democratic Party (DP) said that many people asked to stop the political strife in order to overcome the COVID-19 crisis. Rep. Lee Nak-yon, chairman of the ruling party, stressed on his social media post that the country's response to COVID-19 stands out in terms of quarantine measures and economy, saying, "South Korea is controlling the virus situation more stable than many other countries and is being praised as a model country in coping with the spread of COVID-19."
The party's floor leader Kim Tae-nyeon held a press conference at the National Assembly, where he said the political community needs to desperately focus on the people's livelihood in order to overcome COVID-19. "The people are demanding good faith competition between the political parties to improve the people's livelihood. We have to focus more on public welfare," Kim said.
DP lawmaker Huh Young, whose electoral district is based in Chuncheon in Gangwon Province, said, "Some people received disaster relief fund before Chuseok while some didn't. And there are voices that the government should give relief aid to everyone in the future." Huh added public sentiment was positive over tailored emergency relief pay scheme through the fourth extra budget.
The main opposition People Power Party (PPP) urged the government and the ruling party to stop conducting state affairs unilaterally, while calling for all efforts to overcome the economic difficulties caused by the COVID-19 outbreak. Rep. Joo Ho-young, the PPP floor leader, said, "There is an old saying, 'If only the 365 days of the year were like Hangawi,' which expresses the richness and abundant nature of the harvest full moon day. But this year's Chuseok was tough."
"Due to the prolonging of the COVID-19 crisis, many people did not meet their family members at all during Chuseok. We feel very sorry for many small business owners and self-employed people who have been affected by the pandemic," Joo said.
"I think the whole nation prayed for the end of the COVID-19 crisis looking at the Chuseok full moon. I hope that the COVID-19 crisis ends as quickly as we hope so we can go back to what life was like before," he added.