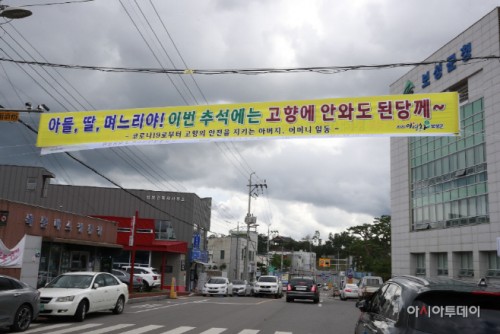 A banner that reads "Sons,daughters and daughter-in-laws, you don't have to visit your hometown this year" is displayed on a street in the Boseong County in South Jeolla Province./ Source: Boseong County
AsiaToday reporters Lee Myeong-nam & Park Hyeon-seob
Traditional rites for Chuseok are expected to be scaled down further this year with the COVID-19 pandemic forcing families to follow strict social distancing guidelines.
Typically, tens of millions of people usually travel across the country go to their hometowns for Chuseok, one of the country's main traditional holidays celebrating the harvest season during which families gather to hold ancestral rituals.
But this year, the government and local offices are encouraging people to refrain from long-distance travel and visiting hometowns to meet elderly parents and relatives in an effort to rein in the COVID-19.
"Not visiting your parents at all is a way to practice filial piety this year," said Mrs. Na, an 80-year-old woman living in Yeosu, South Jeolla Province. "What would happen if you get infected with the virus after visiting your hometown?"
Local governments in rural areas, including Boseong Country in South Jeolla Province and Uiseong-gun in North Gyeongsang Province, are running campaigns on a "quiet Chuseok," asking residents to tell their family members not to visit during the holiday.
Some people are meeting up with family members via video chat or videoconferencing through online services such as Zoom.
Lee, a resident of Seoul in his 60s, decided not to gather and instead carry out an online memorial service known as "charye," a traditional ritual of giving thanks to ancestors which involves offering food to one's ancestors, via video calls on Kakao Talk.
With many expected to follow the government's advice to not return to their hometowns, some are planning an online form of "seongmyo," visits to ancestral gravesites, and hiring professional workers for "beolcho," the act of cutting grass and removing weeks around ancestral gravesites as an important part of the ritual. Some local governments will even completely shut down private cemeteries and memorial venues during the holiday.
Instead, they are preparing an online joint "charye," so that people living in urban areas can take part in the tradition without visiting.
Incheon Family Park, the nation's biggest funeral facility, will close all facilities except the crematorium from Sept. 30 to Oct. 4. Instead, it has introduced an online seongmyo service for the first time in the country, receiving great response from people. Since taking reservations on Sept. 7, some 1,400 people have applied for the service.