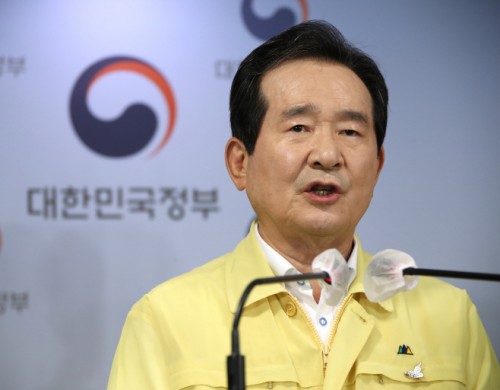 Prime Minister Chung Sye-kyun delivers a speech on special quarantine period set for Chuseok holidays in a briefing at Government Complex Seoul in Seoul on Sept. 27, 2020./ Source: Yonhap News
AsiaToday reporter Lee Seok-jong
Prime Minister Chung Sye-kyun on Sunday urged people to adhere to the government's quarantine guidelines during a two-week special quarantine period, which include staying home and refrain from visiting family and relatives during the upcoming Chuseok holiday, in an address to the nation delivered at the Government Complex Seoul.
"I sincerely ask everyone to refrain from visiting your hometowns to ensure the safety of your parents and the elderly over this year's Chuseok holiday," the prime minister said. "Please think that not visiting your parents this year is the way for filial piety," he said.
"Practicing social distancing that you have done well so far is the best way to ensure the health and safety of the eldery during the Chuseok holiday," Chung said.
"While fighting against the COVID-19, we have surely realized that temporary carelessness and indulgences can bring serious consequences. We should not forget that we are in a quasi-war situation," he said.
"The irresponsible actions of some religious groups back in mid-August resulted in tremendous losses, striking the whole nation with terror," the prime minister pointed out.
Chung also apologized to "children who can't go to school and meet friends, those who cannot visit their parents in nursing hospitals, self-employed people who cannot pay rent because of lack of visitors, small business owners who went bankrupt, and those who lost their jobs during the pandemic."
"Not only hometowns, but also travel spots where people flock at once pose an increasing risk of infection," he said. "Please do not forget that a trip which should give you a precious memory, can threaten the safety of families and communities," he added.
Regarding illegal anti-government rallies planned by some conservative groups, the prime minister said, "Some groups are trying to pushing ahead with illegal assemblies amid the COVID-19 pandemic."
"The whole nation is fearful of a resurgence of the nightmare of illegal assembly on the Liberation Day," he said. "The government will not allow any assembly during the holiday season."
"We will thoroughly block any attempts to hold a rally," Chung said. "We urge those who are planning to stage a rally to stop reckless behavior."
The prime minister vowed to fully exercise the government authority as permitted by law to completely block illegal rallies on the Oct. 3 National Foundation Day and take a zero-tolerance policy against them. "We will respond sternly by thoroughly blocking gatherings in advance and arresting illegal protestors," he said.
Chung said freedom of assembly should be respected, but stressed the health and safety of the people should be the top priority during the pandemic.