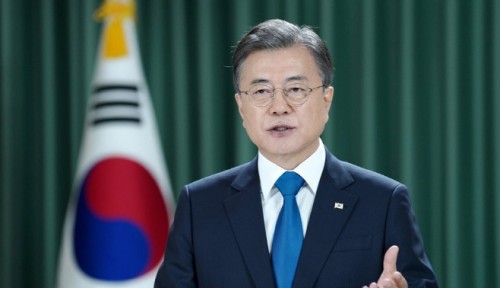 President Moon Jae-in delivers a video speech at the 75th Session of United Nations General Assembly on Sept. 23, 2020./ Source: Cheong Wa Dae
AsiaToday reporter Jung Geum-min
President Moon Jae-in proposed on Wednesday to launch Northeast Asia Cooperation Initiative for Infectious Disease Control and Public Health, whereby North Korea participates as a member along with China, Japan, Mongolia and South Korea, in his video speech during the 75th Session of United Nations General Assembly. This expresses his willingness to break inter-Korean impasse through international cooperation.
As North Korea is ignoring the South's request for dialogue, Moon has prepared an opportunity for the North's smooth participation through a multilateral community that does not include the United States.
The South Korean president, who has entered the latter half of his five-year term, also called for the declaration of the end to the Korean War. His proposal is seen as his final move to revive the momentum of the peace process on the Korean Peninsula.
"I hope that the international community views the issues surrounding the Korean Peninsula through the lens of more inclusive international cooperation," Moon said.
The president stressed that a multilateral cooperation body can guarantee North Korea's regime safety, saying, "A cooperative architecture that guarantees collective protection of life and safety will lay the groundwork for North Korea to have its security guaranteed by engaging with the international community."
However, many observers say North Korea's positive response is unlikely. The South Korean government has been making efforts for inter-Korean dialogue, however the North remains silent. In June, North Korea unilaterally demolished the symbolic inter-Korean liaison office in the North Korean border city of Gaesong, blaming Seoul for anti-Pyongyang leaflet campaigns carried out by defector-led civic groups in the South, raising tensions.
Since then, Kim Jong-un suspended plans for military action against South Korea, easing military tensions. However, there is no sign from North Korea to join hands with South Korea to revive inter-Korean cooperation. Regarding the South Korean government's intention to provide flood aid to Pyongyang, the North Korean leader expressed his clear intention to refuse, saying, "We will not accept foreign aid in connection with the country's latest floods."
Therefore, Moon's regional body proposal expresses his hope to develop the Northeast Asian Cooperation Initiative into an international organization seeking solutions to international issues, including the North Korean nuclear issue.
Besides, his end-of-war declaration proposal seeks to settle hostilities between Pyongyang and Washington and move towards denuclearization and peaty treat agreement.
Regarding Moon's end-of-war declaration proposal, a key Cheong Wa Dae official said, "The president's proposal aims to pave the way for complete denuclearization and lasting peace on the Korean Peninsula through declaration of an end to the War, which can confirm each other's commitment to peace. The president did what he had to do and what he could do in order to break inter-Korean impasse."
However, Moon's proposal has drawn lukewarm responses from Pyongyang and Washington. The North Korea-U.S. dialogue has virtually stopped since the second Pyongyang-Washington summit in Hanoi. In fact, both leaders of the United States and China did not mention North Korea in their Wednesday speech at the UN General Assembly.
"President Moon's Northeast Asia Cooperation Initiative for Infectious Disease Control and Public Health seems to be a strategy to create a virtuous cycle of the new security issues in Northeast Asia referred to as COVID-19 issues," Yang Moo-jin, a professor at the University of North Korean Studies, told AsiaToday in a phone interview.