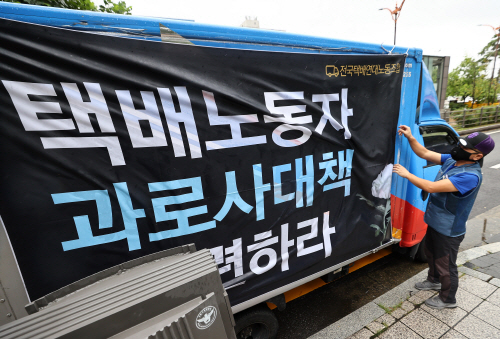 A parcel delivery worker is installing a banner in front of the National Assembly in Seoul on Sept. 7, calling for measures to prevent parcel workers from dying due to overwork ahead of the thanksgiving Chuseok holiday./ Source: Yonhap
AsiaToday reporter Chun Hyun-bin
The parcel delivery industry has been already notorious for poor working conditions. As the COVID-19 outbreak triggered a sharp surge in parcel service demand this year, leading to many deaths, over 4,000 delivery workers nationwide has decided to suspend parcel classification work starting from next week. If they go ahead with the plan to stop sorting, it is likely to cause delays in delivery ahead of the anticipated rise in gift deliveries before the Chuseok thanksgiving holiday later this month.
The Overwork Death Prevention Committee of National Parcel Delivery Workers' Union announced Thursday that it will refuse to sort the parcels starting from Sept. 21 during a press conference at the office of the Korean Confederation of Trade Unions in Seoul on Thursday. Earlier, the committee held a vote among courier service workers form Monday through Wednesday, and a total of 4,160 people, or 95.5 percent of those who voted, concurred with the plan to refuse the sorting work.
The union has been saying that it would go into a strike unless the parcel delivery industry come up with effective measures, such as setting up a team of workers in charge of sorting parcels. "Deliveries will be disrupted due to our boycott or sorting work. But we ask you to understand our desperate position that we must prevent any more deaths from overwork," the committee said.
The national post service is reportedly preparing concrete measures in preparation for the collective actions of the parcel delivery union. "We will continue to communicate with the union through the Logistics Support Group. We are making efforts, such as allocating budget to hire additional manpower to do the sorting," Korea Post said. "We are discussing how to allocate the previously classified parcels and to diversify delivery channels."
Korea Post has been hiring temporary workers during Chuseok holidays, but the union is demanding delivery companies to set up a new team in charge of that task instead of a temporary recruitment of manpower. "The number of parcels depends on the season, and overall monitoring should be done before hiring more people," Korea Post said. "The union's demand should be reviewed in the medium to long term. We will first respond with the budget available," it added.
Private delivery companies, including CJ Logistics, are also discussing countermeasures but have yet to come up with specific plans. The companies are trying to reduce excessive amount of parcels per worker to avoid overwork instead of hiring more people for sorting.
The union said that if the logistics companies come up with effective measures to prevent parcel workers from dying due to overwork, they are willing to withdraw the boycott and return to dialogue.