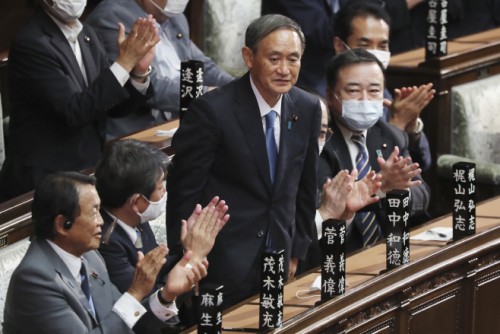 Japanese legislators applaud newly-elected Prime Minister Yoshihide Suga after he won a vote in parliament in Japan on September 16, 2020./ Source: AP Yonhap
AsiaToday reporter Lee Jang-won & Tokyo correspondent Uhm Soo-ah
President Moon Jae-in sent a letter congratulating new Japanese Prime Minister Yoshihide Suga on Wednesday, where he expressed hope the two sides will work together to further develop bilateral relations. The president said Seoul is ready to sit down face-to-face anytime and communicate and expects Japan's active response.
"We will actively cooperate with Prime Minister Suga and his cabinet to wisely overcome the issues of the past and strengthen practical bilateral cooperation in every area including the economy, culture and personnel exchange in a forward-looking and reciprocal manner," the government said.
Lee Nak-yon, the chairman of the ruling Democratic Party (DP), also expressed hope for improved Seoul-Tokyo relations under Suga's leadership, saying, "I hope for the elevation of Japan's national destiny and an improvement in South Korea-Japan relations."
With Suga as new Japanese leader, people are paying attention to whether his tenure will bring changes in Seoul-Tokyo relations which have been in conflict for a long time over wartime history and trade issues. While many experts do not expect rapid improvement, some express optimism that resignation of former Japanese Prime Minister Shinzo Abe could be the beginning of change.
Suga became Japan's 99th Prime Minister after receiving 314 votes in the 465-member House of Representatives and 142 out of 240 votes in the upper chamber on Monday. The 71-year-old head of the ruling Liberal Democratic Party (LDP) replaced Shinzo Abe, Japan's longest-serving Prime Minister, who announced his intention to resign in August due to health problems.
As Suga said he will pursue Abe's unfinished polices, 11 out of 20 Cabinet members are former Abe appointees, promoting the impression of stability and continuity between the two leaders.
Suga chose to keep Taro Aso as finance minister and Toshimitsu Motegi as foreign minister. Defense Minister Taro Kono was named minister in charge of administrative reforms. Abe's younger brother Nobuo Kish was appointed to the new defense minister.
Suga is a self-made politician and the son of a farmer in rural Akita in northern Japan. He was a long-time backer of Abe. He has shown a hardline stance on historical issues with South Korea. However, some say that there may be a different diplomatic approach compared to the past, as he has taken a new post.