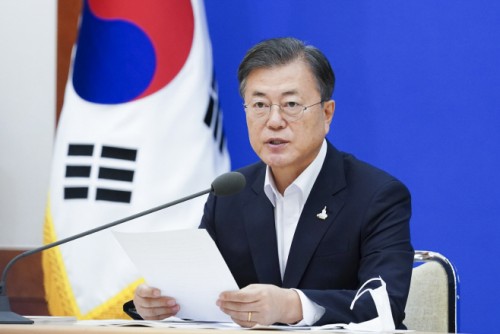 President Moon Jae-in presides over an emergency economic council meeting at Cheong Wa Dae on Sept. 10, 2020./ Source: Yonhap News
AsiaToday reporter Cho Sang-eun
The fourth extra budget is mainly aimed at helping vulnerable industries such as small business owners, and low-income groups that were hit hard due to the COVID-19 outbreak.
Presiding over an emergency economic council meeting at Cheong Wa Dae on Thursday, President Moon Jae-in announced the fourth extra budget worth 7.8 trillion won (US$6.5 billion).
Since the fourth supplementary budget is a relief package to help those in urgent need amid the virus resurgence, it will provide direct and practical support.
The president characterized the budget as "disaster relief tailored to damages" to focus on providing vulnerable people with support "as thick as possible."
As a result, the supplementary budget is focused on providing a heaviest financial support to those who suffered the most from the virus resurgence.
"This is the core of this tailored disaster support, which is about half of the total supplementary budget," the president said.
The government allocated 3.8 trillion won of the budget for small business owners and SMEs, benefiting a total of 3.77 million people. From the allocated budget, a new fund worth 3.2 trillion won will be set up to stabilize the management of small business owners, which would support 2.91 million small merchants and self-employed people.
The government put much emphasis on protecting jobs and supporting low-income families. It allocated 1.4 trillion won for 1.99 million people and 400 billion won for 890,000 people, respectively.
"Freelancers and workers in special employment categories will be also included in the budget," the president said.
In addition, the government will spend 2.2 trillion won to provide a phone bill subsidy and a subsidy for households that care for preschool and elementary school children.
While the government set up the fourth extra budget aimed at minimizing the economic fallout from the country's COVID-19 situation, concerns are growing over the government's fiscal soundness.
With total government spending this year at 554.7 trillion won, the national debt is expected to increase to 846.9 trillion won.