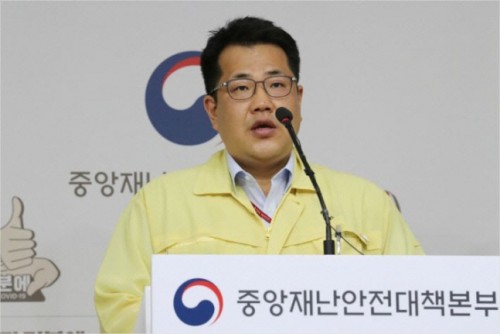 Health Ministry spokesperson Sohn Young-rae/ Source: Yonhap
AsiaToday reporter Yoon Seo-young
The South Korean government has maintained its position that it could not meet the demands of the medical community over additional applicants for state medical licensing exam. It claims that it is not reasonable to come up with restitution measures for students who have refused to take the exam by themselves. Besides, it has already taken sufficient measures, such as postponing the exam by a week and extending the period of additional application to encourage more applicants. The government said that giving the medical students another chance could infringe upon fairness and equity.
"The national medical license exam has begun on Tuesday as scheduled. We are not reviewing plans to offer additional opportunities as we have already postponed the test and extended the application period in the past," Health Ministry spokesperson Sohn Young-rae said during a regular briefing at the government complex in Sejong on Tuesday.
"The demand to save the medical students is an unreasonable request," he said. "The medical students refused to take the exam, so it is impossible to come up with more ways to save them. We believe the top priority for the Korean Medical Association (KMA) and the Korean Intern and Resident Association (KIRA) is to make efforts to make medical students change their minds to return to school and take exams on their own, rather than demanding the government for additional opportunities."
The exam was held as scheduled after most medical students said they will not take it in protest over an agreement reached by the KMA, ruling Democratic Party (DP) and the government on August 31 to start over on reform discussions. According to the health ministry, 446 out of 3,172 exam applicants, or 14 percent, applied for the test.
"There must be ways to save them," said Lee Yoon-seong, president of the Korea Health Personnel Licensing Examination Institute. "However, the applicants' willingness to take the exam is an essential prerequisite for restitution measures."
The medical community argues that relief measures should he given so that medical students can take the exam. But health authorities say they will not provide another opportunity such as allowing students to retake the exam or extending the application period.
"The medical community should bear in mind that the public believes giving the medical students another chance goes against fairness and equity," Sohn said.
In fact, more than 460,000 people supported an online petition, posted on the website of the presidential office Cheong Wa Dae, against additional measures to save the medical students who canceled the registration of the medical license exam.
Regarding concerns of a possible lack of licensed doctors in the coming years, Sohn said, "We will be working to adjust the workload among doctors. This will be by dividing certain tasks up that could be done by people other than doctors, temporarily recruiting more doctors, and sending patients with light symptoms to medium and small-sized hospitals."