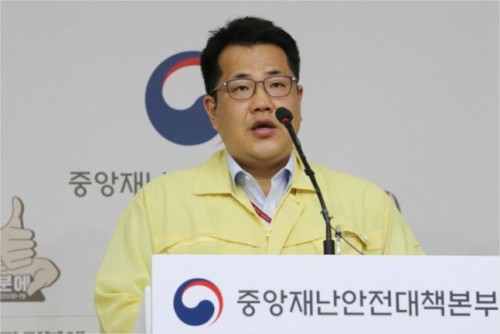 Health Ministry spokesperson Sohn Young-rae/ Source: Yonhap
AsiaToday reporter Jang Ji-young
Only 14 percent of people signed up for the 2021 Korean Medical License Examination. However, the government will carry out the exam on Tuesday as scheduled. It also reaffirmed that it would not give any additional application opportunities to those who did not apply for Tuesday's exam.
According to the Ministry of Health and Welfare, 14 percent or 446 of 3,172 medical students eligible to take the test this year applied for the exam.
Previously, the government had postponed the state-run medical licensing exam by one week, from Sept. 1 to 8, and extended the application period to midnight Sunday after nearly 90 percent of medical students who registered for the test had cancelled their applications as part of the boycott.
However, the Emergency Response Committee of the Korean Medical Student Association (KMSA) on Sunday decided to reject the licensing exam based on a unanimous vote by students representing 40 medical colleges across the nation. As a result, more than 86 percent of students did not apply for the test during the extended application period.
Regardless of their intentions, the government plans to carry out the test as scheduled. "The reapplication period has ended midnight Sunday, and the practical exam will be carried out according to the plan," Health Ministry spokesperson Sohn Young-rae said during a regular press briefing at the government complex in Sejong. "The test will be held on Sept. 8 as previously announced."
"Since the number of applicants has been reduced a little, we are making thorough preparation such as adjusting the number of people to supervise the exam," Sohn said. "
The ministry stressed that it will not be further postponing the test schedule or extending the application period. "Taking additional applications after the deadline will go against laws and principles, and will be unfair in consideration of other numerous licenses granted through state examinations," the spokesman said.
The government believes that there will be no major problems with the supply and demand of public medical personnel even if medical students do not take the licensing test. "It is not a big problem enough to disrupt the supply and demand of medical personnel in the community," Sohn said.
"We will make thorough preparations to make sure there is no damage in vulnerable rural areas' health care sector by going through various simulations such as allocating more personnel in essential fields and hiring doctors if necessary," he added.