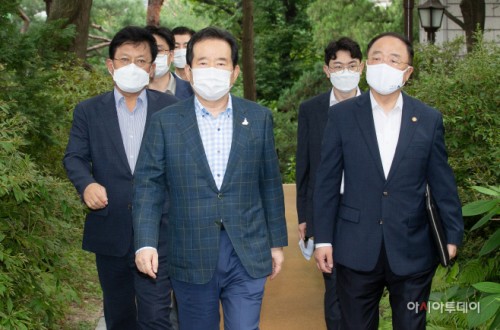 Prime Minister Chung Sye-kyun and Finance Minister Hong Nam-ki attend a meeting among the officials of the government, ruling party and presidential office at the Prime Minister's Office in Seoul on September 6, 2020./ Photographed by Song Eui-joo
AsiaToday reporter Lee Jang-won
The government, ruling party and presidential office agreed Sunday to draft an additional budget worth more than 7 trillion won to deal with the economic fallout from the COVID-19 pandemic. They also decided to provide a second round of disaster relief funds selectively to those in a poorer financial situation, unlike the first round of relief funds that were distributed to all households. The three parties plan to submit the budget bill to the National Assembly this week so that it can get lawmakers' approval before the Chuseok holidays set to begin at the end of September.
Prime Minister Chung Sye-kyun, the ruling Democratic Party (DP) Chairman Lee Nak-yon, DP floor leader Kim Tae-neyon, presidential chief of staff for policy Kim Sang-jo and other officials reached the agreement after holding a meeting at the Prime Minister's Office to discuss the details of the second round of cash handouts and the fourth extra budget, the party's chief spokesman Choi In-ho told reporters.
The three parties agreed to provide emergency disaster relief funds selectively to those who have been hit directly by the COVID-19 pandemic, such as small business owners, self-employed, special type workers, and unemployed. Such "tailored" payment of relief handouts has been the subject of dispute. The government will provide "tailored support with no blind spots" with a focus on the vulnerable, who include the unemployed, youth, freelancers, low-income people and merchants and the self-employed, Chung said.
For this reason, the government, ruling party and presidential office will promote a tailored emergency disaster relief package in the fourth extra budget bill, such as the second emergency employment support fund for disadvantaged in employment group, the support fund for small business owners who have recently experienced decrease in sales, and more.
The fourth extra budget mainly aimed to provide emergency disaster relief funds will amount to between 7-8 trillion won. The amount was set in consideration of the effectiveness of support and the financial burden of the state. "The amount is the result of comprehensive consideration of sufficient support for the vulnerable and the issuance of state bonds," the spokesman said. The ruling DP plans to approve the extra budget bill in the National Assembly before the Chuseok holidays to actively support people's livelihoods and stabilize employment.
The government plans to announce a comprehensive plan for people's livelihoods and economy this week, and speed up the submission of the extra budget bill to the National Assembly.