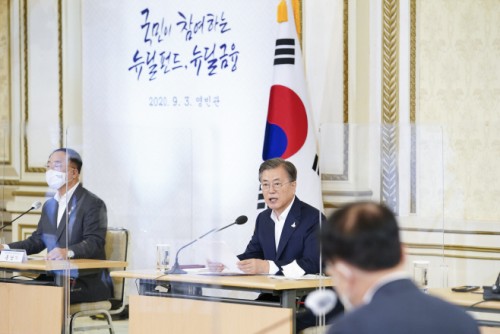 President Moon Jae-in presides over the first meeting on strategies to implement the Korean version of New Deal at Cheong Wa Dae on September 3, 2020./ Source: Yonhap News
AsiaToday reporter Lee Jang-won
The South Korean government has come up with a plan Thursday to set up the Korean New Deal fund worth of 190 trillion won over the coming five years. The government will also create a 20 trillion-won "New Deal Fund" for ordinary people to invest in relevant Korean New Deal projects.
President Moon Jae-in presided over the first meeting on strategies to implement the Korean version of New Deal at Cheong Wa Dae, where he discussed ways to create a fund for the initiative.
"We aim to lead the success of the Korean version of New Deal through three pillars - budget spending, policy financing and private financing," Moon said. "Through the New Deal Fund and policy and private financing, it would be the biggest-scale investment in a single project in the nation's history," he said.
The government plans to transfer excess liquidity in the market to the investment in the Korean New Deal fund based on the three pillars – the Policy-Financing New Deal Fund invested by the government, the New Deal Infrastructure Fund which provides various tax benefits, and the Private New Deal Fund autonomously created by the private sector.
The 20 trillion-won "New Deal Fund" for ordinary people will be comprised of a 7 trillion won investment from the government and state-run financial institutions and 13 trillion won from private financial companies and the public. The president said that the fund would enable the general public to join the government's drive in person for more stable profits with shared loss risks and tax benefits.
Over the next five years, 100 trillion won will be invested in the Korean New Deal projects and concerned companies through policy financing, and 70 trillion won via private financing. State-run organizations including the Korea Development Bank, Industrial Bank of Korea and Korea Credit Guarantee Fund will inject 100 trillion won into related areas through loans and guarantees. The proportion of the New Deal project sector in the annual funding of state-run institutions is set to rise to more than 12 percent by 2025.
The five financial holding firms including Shinhan, KB, Hana, Woori and NH will inject 70 trillion won through loans and investments for the New Deal projects and concerned companies. Specific plans were presented as well, such as NH Holding Company's "Green Korea New Deal Fund" and Samsung Active Asset Management's "Samsung New Deal Korea Fund."
During the meeting with the leaders of the country's major financial groups, the president stressed the financial sector's active role, saying, "We need active support from the financial industry." He said the project offers a chance for the country's financial industry to be "upgraded." He also asked financial institutions to help the New Deal fund emerge as an "attractive investment alternative" to the real estate market for floating capital.