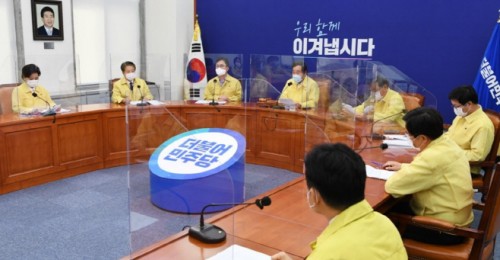 The Democratic Party's new Chairman Lee Nak-yon is presiding over the first supreme committee meeting at the National Assembly on August 31, 2020./ Source: Yonhap
AsiaToday reporter Lim Yoo-jin
South Korea is reviewing the option of drawing up a fourth extra budget worth 10 trillion won amid a resurgence of the new coronavirus. Through this, the country is expected to finance disaster relief money selectively to small business owners and vulnerable groups. While the matter of when to provide the relief money is important, it is highly likely to be given early October.
As political parties are raising the idea of an additional extra budget to deal with the economic fallout from the COVID-19 pandemic, a tripartite meeting among the ruling Democratic Party (DP), Cheong Wa Dae and the government is expected to be held this week to discuss the issue. If South Korea draws up the fourth extra budget, it would be the first time for the country to do so in 59 years since 1961.
The ruling bloc argues that the fourth extra budget should worth approximately 10 to 12 trillion won. With the fact that the national debt has increased rapidly due to government bonds, and that the country has already drawn up an extra budget three times this year, it is noteworthy how they would coordinate the issue with Cheong Wa Dae and the government. The three parties are expected to finalize the plan over the weekend after discussing the issue behind closed doors this week.
Rep. Lee Nak-yon, the new chairman of the ruling party, said at a party meeting, "We will consult with Cheong Wa Dae and the government as soon as possible to draw up an extra budget bill." He stressed that both the opposition and the ruling parties understand the need to draw up the fourth extra budget, saying, "The leaders of the five political parties, including myself, have reached consensus on the need to cooperate in overcoming the crisis and supporting the people's livelihoods."
The main opposition People's Power Party's leadership, including acting leader Kim Chong-in and floor leader Joo Ho-young, is urging the government and the ruling party to draw up an additional budget. Kim Chong-in appealed for the urgency of drawing up an extra budget on his social network service (SNS) account Tuesday, saying, "We opened a way so they can swiftly draw up the fourth extra budget, but the government is still hesitating. Now is the time when the ability to handle various policies is critical. The issue needs to be addressed with financial power."
Finance Minister Hong Nam-ki, who had previously ruled out the possibility of the fourth extra budget, shifted his position, saying that the government will review the need to draw up the fourth extra budget if the nation raises social distancing rules to the highest Level Three. "If social distancing rules are raised to Level Three, its economic impact will become more serious," Hong said.