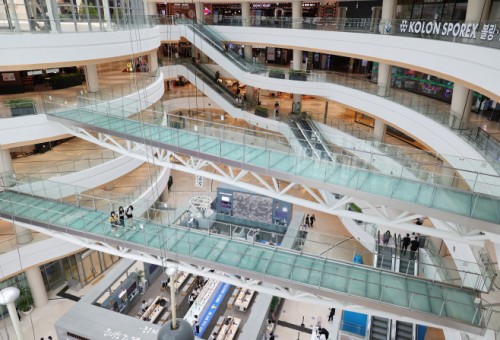 A shopping mall in Seoul is unusually quiet amid stricter social distancing in place in the Greater Seoul area on Aug. 30, 2020./ Source: Yonhap News
AsiaToday reporters Kim Seo-kyung & Jang Ji-young
The Greater Seoul area will be "put on hold" until September 6. The government has strengthened social distancing rules for a period of eight days in an attempt to stop COVID-19 from spreading from the capital region to the rest of the country.
The strengthened social distancing rules are applied to establishments in Seoul, Gyeonggi Province and Incheon until Sept. 6, according to the Central Disaster and Safety Countermeasure Headquarters on Sunday.
Instead of raising the level of social distancing to the highest Level Three, which has a strong social and economic impact on the country, the country implemented stronger and tailored measures for risk-prone facilities, a move widely viewed as Level 2.5. Health authorities urged citizens to thoroughly abide the enhanced social distancing guidelines until next Sunday.
On Sunday, the country began to restrict operations of restaurants, bakeries, and franchise coffee shops in the greater Seoul area.
For instance, restaurants and bakeries can operate until 9 p.m., and only takeaway and delivery are allowed from 9 p.m. to 5 a.m.
For franchise coffee chains, only takeout or delivery are permitted regardless of operating hours, as cluster infections traced to coffee shops have been reported. When customers visit coffee chains for takeaway, they should submit their personal details with QR code-based IDs generated through a smartphone app.
Small sized cafes owned by a single proprietor are not included, as the guidance only includes franchises and stores managed by large companies. However, many small cafes are taking their own quarantine measures voluntarily, such as recording visitors' personal information, recognizing the gravity of the situation.
The government began to suspend the operation of all indoor sports facilities, including fitness centers, billiard halls, swimming pools, and table tennis courts, in the wake of virus infections at indoor sports centers.
On the first day of the stricter social distancing rule implementation, many people chose to stay home. Seoul's large shopping malls and infamously crowded streets had a quiet Sunday morning.
Seoul City joined the strengthened social distancing campaign by designating this week as a "week of stoppage for ten million Seoulites." Acting Seoul Mayor Seo Jeong-hyup announced the designation on Sunday during an online press briefing. "Now is the time for citizens to share pain," he said. "I ask you to faithfully abide by the enhanced social distancing guidelines for a week with determination to give up your daily life."
Pointing out that the number of confirmed patients in their 20s to 40s in the last week reached 38.5 percent of all confirmed cases, the acting mayor stressed that the city will focus on minimizing environments that are mostly concentrated by young people.
"It will be a very painful, long week for the self-employed and small business operators who need to stop operation. But we are taking a break for a while in order to take back our lively daily routine as soon as possible," Seo added.