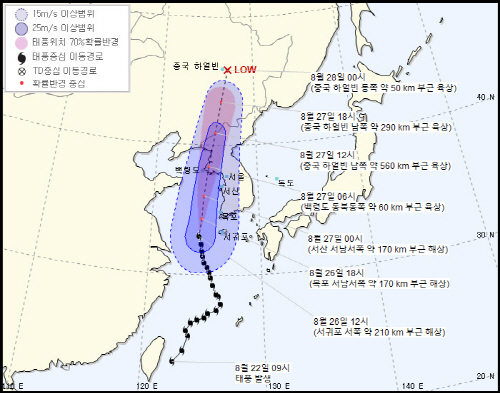 The image provided by the Korea Meteorological Administration (KMA) shows Typhoon Bavi's expected path as of 10 a.m. on Aug. 26, 2020./ Captured from homepage of the KMA
AsiaToday reporter Lee Joo-hyung
Several cases of damage from strong winds have been reported on the Jeju Island as the powerful Typhoon Bavi, the season's eighth tropical typhoon, approached the country's southern resort island on Wednesday afternoon. As Bavi is forecast to bring strong gusts that could set a new record, serious damage is expected. However, the typhoon is unlikely to cause great inconvenience on Thursday morning as it is expected to move upward to North Korea at around 8 a.m.
According to fire authorities in Jeju, as of noon Wednesday, some 40 cases of damage have been reported. Jeju Island is reporting considerable property damage due to strong winds.
The incidents range from broken traffic and street lights to shattered windows and even trees blown over.
Flights and ferries were suspended across the country due to the approaching typhoon. A total of 463 flights were scheduled for Wednesday at Jeju International Airport until the typhoon forced around 330 to be called off. Fifteen ferries leaving from the island have also been canceled.
The Korea Meteorological Administration (KMA) projected the tropical storm to bring strong winds that could break the record set by Typhoon Maemi, which logged a maximum wind speed of 60 meters per second on Sept. 12, 2003.
"Bavi is forecast to break a record among typhoons that passed through the Yellow Sea," said Woo Jin-kyu, a researcher at the weather agency. "Wind speed is likely to depend on the speed and strength of the typhoon, but most of the country is expected to be affected by strong winds."
Besides, Bavi is similar to Typhoon Lingling in 2019 and Typhoon Bolaven in 2012 in terms of its strength and its course. The tropical storm is expected to travel up the Yellow Sea, just like the two previous typhoon routes.
However, there are growing concerns that it could cause more damage than Lingling and Bolaven as Bavi's strength is expected to be stronger. According to the weather agency, Lingling left four people dead or injured and caused 33.3 billion won worth of property damage, while Bolaven caused 11 deaths or injuries and caused 636.4 billion won worth of property damage.
The KMA forecast the typhoon to approach Heuksan Island of South Jeolla Province in the Yellow Sea at around 8 p.m. and Seoul at around 4 to 5 a.m. on Thursday. As a result, heavy rains with maximum instantaneous wind speeds of 40 to 60 mps are expected in Jeju and parts of South Jeolla Province.
A wind speed of 35 mps can derail trains, and if it exceeds 40 mps, the wind can topple running cars and huge rocks. Maemi, which logged a maximum wind speed of 60 mps, had blown down a huge steel crane.
The typhoon is forecast to pour up to 500 millimeters of rain on Jeju Island.