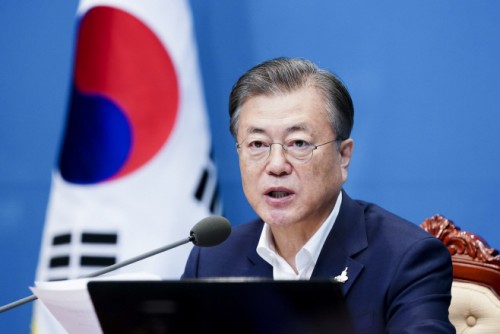 President Moon Jae-in speaks during a Cabinet meeting at Cheong Wa Dae in Seoul on Aug. 25, 2020./ Source: Yonhap News
AsiaToday reporter Lee Jang-won
As South Korea is preparing for another potential wave of mass new coronavirus infections, attention is now focused on whether the government will provide a second round of emergency handouts and draft its fourth extra budget.
Speaking at a Cabinet meeting on Tuesday, President Moon Jae-in said the resurgence of COVID-19 has placed the country's economy and its efforts to contain the virus in jeopardy. "An extraordinary economic response is required," Moon said. "If needed, we will be able to hold an emergency economic council meeting chaired by the president," he said.
"If necessary, we will have to make supplementary steps to the government's emergency economic policies," the president said. As the president had announced various economic measures such as the Korean New Deal and emergency handouts in the previous emergency economic meetings, many believe that the government might review introducing new measures.
During the Cabinet meeting, the government voted for several bills aimed to revitalize the economy and support small businesses amid the economic fallout of COVID-19, including a bill to temporarily increase the income tax deduction rate for credit card.
However, the president made it clear that quarantine comes first in the current situation. "The strengthening of anti-virus measures is a shortcut to economic recovery, as well as the protection of the people's safety and lives," he said. "In the short term, some economic difficulties must be endured in order to stabilize the situation as soon as possible for economic recovery."
In accordance with the president's instructions, Cheong Wa Dae strengthened its anti-virus measures. In regards to the possibility of raising the country's social distancing requirement to Level Three, the presidential office said, "The most important thing to do is preventing the country from raising its social distancing to the toughest Level Three."
Prime Minister Chung Sye-kyun maintained a cautious stance on providing additional emergency disaster relief funds. "The government has suspended judgment," Chung said. "We have to think about the country's financial status and the efficiency of emergency disaster relief funds."
However, many ruling party lawmakers claim that a second round of emergency handouts is needed, hinting the possibility of a tripartite discussion with the government and Cheong Wa Dae. Gov. Lee Jae-myung of Gyeonggi Province appealed for the government's swift action on additional emergency handouts. "We have no time to waste thinking about foolish ideas like graded payments that will only stir division and tension," Lee said in a Facebook post.