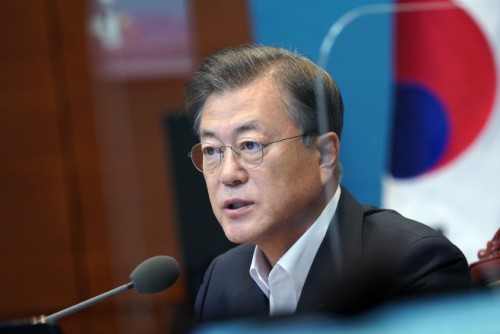 President Moon Jae-in speaks at a meeting with his senior secretaries at Cheong Wa Dae on Aug. 24, 2020./ Source: Yonhap News
AsiaToday reporter Lee Seok-jong
President Moon Jae-in said on Monday that if the number of new cases doesn't come down under the current Level Two campaign, then the government will have no choice but to raise the social distancing restrictions to the highest level. The president also called for national unity to prevent the worst case scenario.
In a meeting with his top aides at Cheong Wa Dae in Seoul, Moon pointed out that daily routines would collapse under the Level Three restrictions, leading to a huge economic blow. "And even the medical service system may collapse," he added.
The president also warned against impeding health authorities' epidemiological efforts and refusal to cooperate with health authorities. "As the number of patients, whose transmission routes are unknown, is growing, anyone can get infected and new cases can explode anytime," Moon said.
"Any malicious and systemic act of obstructing quarantine efforts including the spreading of fake news is anti-social crime that threatens the community. A refusal to follow administrative orders, noncooperation and other deviant behaviors are unacceptable," he said. "We will not ignore any illegal activities that harm the people's safety."
"Such behaviors harmed many people's lives and health and halted our daily routines, causing massive economic damage. It was a fatal blow to the service industry, and even disturbed our efforts for recovery from heavy rain," Moon said. "It already had an immense affect on the people."
"No religious freedom, no freedom of assembly, or freedom of speech, can be claimed, incurring a great deal of damage to the people," the president said. "The government will clearly establish the strictness of public power as a means to guard the safety of the people and public order."
With regard to doctors nationwide protesting against the government's medical workforce reform plan, he warned of a "resolute response" to their illicit collective action in order to protect the people's lives. "They can either oppose or criticize the government's policy, but must not cross the legal line," he added.
Moon asked doctors to "hold the hand" extended by the government to find a resolution to the issue through dialogue and work together to get through the pandemic.
Regarding the second level of social distancing measures, which have expanded nationwide from Sunday, Moon vowed to strengthen regional quarantine network by mobilizing all resources together with local governments.
"Our strength to overcome the current emergency situation is the people. I would like to ask you to observe the second level of social distancing measures. Especially, I would like to emphasize the importance of wearing a mask," he said.
"We will do our best to alleviate the difficulties of the people who have suffered huge damages from unprecedentedly lengthy monsoon and downpours. The government has designated more regions nationwide, hit by recent heavy rains and floods, as special disaster zones. We will shorten the time for speedy state assistance in recovery work," the president said.