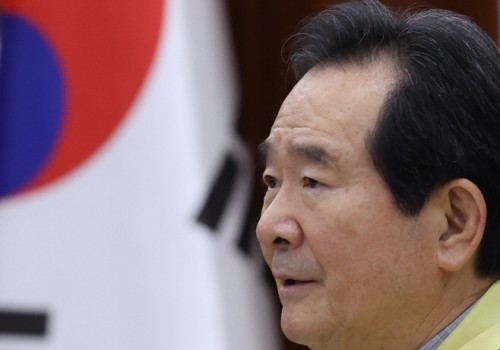 Prime Minister Chung Sye-kyun speaks during a meeting of the Central Disease Control Headquarters at the government complex in Seoul on August 23, 2020./ Source: Yonhap News
AsiaToday reporter Lee Jang-won
Prime Minister Chung Sye-kyun on Sunday called for the public to follow the guidelines of social distancing and cooperate with health authorities to prevent the situation from "becoming more serious than in Daegu and North Gyeongsang Province" as the country is on the verge of a large-scale nationwide pandemic.
While the government is making its utmost to contain the current outbreak, it will review whether to adopt Level 3 social distancing in preparation for the worsening of the situation. Health authorities said Sunday that the daily COVID-19 cases spiked to 397 the previous day – highest since early March. Of the total COVID-19 cases, 100 cases were reported in provincial regions, raising concerns of a nationwide epidemic. While the sharp increase in cases is mainly attributed to church-related infections, at least two virus cases have been reported at the Ministry of Foreign Affairs building in central Seoul.
"If the spread of infections go beyond the quarantine management network due to the delay in quarantine control, the burden on the medical system and the fatigue of the people will be intensified to an unbearable level," the prime minister said in a meeting of the Central Disease Control Headquarters at the government complex in Seoul.
"I ask you to please follow the quarantine rules, such as refraining from going outside, wearing a facemask, washing your hands frequently and practicing social distancing," the prime minister said. "It will be awkward for a while, but I ask you to be patient and actively cooperate with the health authorities for the safety of yourself, your family and the community," Chung said.
"It is again time to focus on quarantine," he said. "Economy and daily life can only be restored when quarantine measures are stably carried out. The most urgent thing is to curb spread of COVID-19 as soon as possible and return to a stable state. Curbing spread of the virus with strong quarantine measures is the best way to quickly restore people's daily life."
The prime minister strongly called for trainee doctors, who have entered an indefinite strike despite the government's postponement of its decision to reform medical workforce, to stop group action, saying, "I ask trainee doctors to work together with the government to overcome the crisis. I ask the Korean Intern Resident Association (KIRA) to make its decision now." Chung also urged trainee doctors to return to their work of treating patients.
Meanwhile, the government had hinted that the number of new COVID-19 patients would exceed 400. "We don't see it as a peak. We see the number of cases can further rise," said Jung Eun-kyeong, Director of the Korean Centers for Disease Control and Prevention (KCDC). Regarding the need of raising the social distancing level to the highest level, Jung said, "We are feeling the need of it every day."