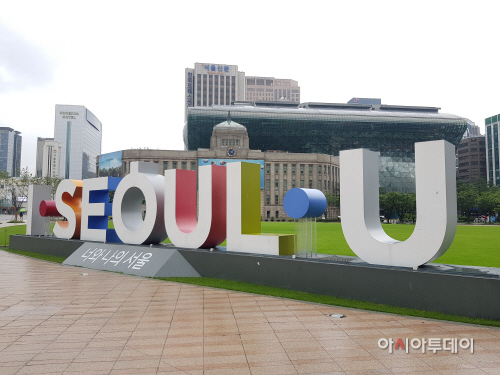 The Seoul city government said on Thursday it will ban street rallies of 10 or more people across the capital amid mounting concerns over resurgence in new coronavirus cases./ Source: AsiaToday DB
AsiaToday reporters Kim In-hee & Yoon Seo-young & Jang Ji-young
The Seoul city government said on Thursday it will ban street rallies of 10 or more people across the capital amid mounting concerns over resurgence in new coronavirus cases. The tightened threshold is equivalent to the government's Level Three social distancing scheme. Under the Level Two social distancing scheme, rallies of 100 or more participants are prohibited.
The city government said that all demonstrations with 10 or more participants will be banned starting Friday until midnight on Aug. 30.
"Seoul is a place with the highest concern about the spread of the infection due to its high density and mobile population, so the city has decided to take pre-emptive measures to block the risk of spreading COVID-19," the city government said. Those that violate the measure may face up to 3 million won ($2,526) in fines.
Meanwhile, a surge in infections related to the Sarang Jeil Church and the Gwanghwamun rally continued to put the greater Seoul area on edge. Health authorities believe that the Sarang Jeil Church and the anti-government demonstration held in Seoul last weekend are a hotbed of the latest spike in virus cases, and urged those who visited the church after Aug. 27 to get tested at a screening clinic.
The Korea Centers for Disease Control and Prevention (KCDC) said that cases traced to the Sarang Jeil Church reached 676 on Thursday at noon, up 53 from the previous day. The church-linked cluster infection is rapidly spreading to other religious facilities, offices and other various locations.
At least 18 students from a physical education academy near the Sarang Jeil Church tested positive for COVID-19 on Wednesday. Related to Starbucks Paju Yadang Station Branch in Paju, Gyeonggi Province, 3 more cases were confirmed, raising the total related cases to 58.
Related to Hyundai Commercial Seoul Gangseo Branch, a total of 19 cases have been confirmed. In relation to Prugio Preschool in Gangdong District, eight cases have been confirmed.
The number of confirmed cases related to August 15 Gwanghwamun rally is increasing as well. Besides, three police officers who were dispatched at the scene were confirmed. As a result, a total of 53 people related to the rally tested positive.
As concerns about the shortage of hospital beds are emerging, the Seoul city government revealed that the bed utilization rate for COVID-19 patients came to 65.8 percent. This means 757 out of 1,150 beds in general hospitals in Seoul are occupied. On Wednesday, the bed utilization rate came to 80.8 percent, raising concerns.
However, the government says there is no shortage of hospital beds yet. "We believe we are in a situation where we can respond to the rate of occurrence of patients," said Vice Health Minister Kim Gang-lip in a briefing. "We will efficiently utilize existing beds through joint utilization of beds in the three metropolitan areas."