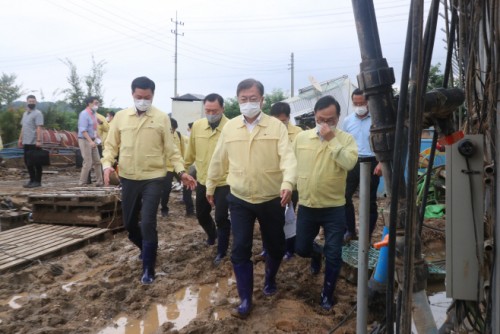 President Moon Jae-in inspects a wrecked cucumber farm in Cheonan, South Chungcheong Province, along with other officials on Aug. 12, 2020./ Source: Yonhap News
AsiaToday reporter Lee Jang-won
President Moon Jae-in visited three southern areas hit hard by torrential rains to check flood damages and called for all-out efforts to ensure swift recovery. He met with local residents to listen to the difficulties they face due to the heavy downpours and vowed to reflect on-site support requests to the policy as much as possible. The president also instructed related ministries to review an additional designation of affected regions as special disaster zones.
Moon visited Gurye, South Jeolla Province, Hadong, South Gyeongsang Province, and Cheonan, South Chungcheong Province, accompanied by relevant ministries to check on restoration efforts in the regions and discuss ways for practical support.
The president, who visited flood-affected Paju and Yeoncheon in Gyeonggi Province last Thursday, showed his strong will to overcome the disaster by travelling over 750 kilometers of distance over nine hours during his trip. Moon had meals on the presidential KTX bullet train to better focus on field work, according to Cheong Wa Dae spokesman Kang Min-seok. First Lady Kim Jung-sook did volunteer work in Cheorwon County, Gangwon Province, for recovery efforts.
After receiving a briefing on flood damage and recovery work aboard the bullet train, Moon stressed the need for rapid financial support for restoration. He instructed related officials to do their best to swiftly designate affected regions as special disaster zones eligible for financial assistance.
After visiting three provinces in a single day, Moon encouraged volunteers who were repairing the damage. He also held a meeting with residents in Hwagae Market in Hadong, Gurye 5-day Market in Gurye, and Cheonan City to console them. Moon vowed for speedy recovery efforts, saying, "I realize that swift response is more important than support itself," Moon said. "
The president also called for thorough quarantine management to curb COVID-19 infections in the areas hit by heavy rains.
Prime Minister Chung Sye-kyun, who has been responding to flood damage since last month by visiting areas hit hard by heavy rain, discussed ways for the government's swift support for rain damage recovery during a meeting among the government, the ruling Democratic Party and Cheong Wa Dae at the National Assembly. "For swift recovery, we will use all available budgets such as reserve funds and disaster relief fund," Chung said. "We will review ways to ensure that disaster relief fund is provided in a timely manner."
"The government will provide full support so that flood victims regain hope," the prime minister said. "We will build a stronger disaster safety net," he added.