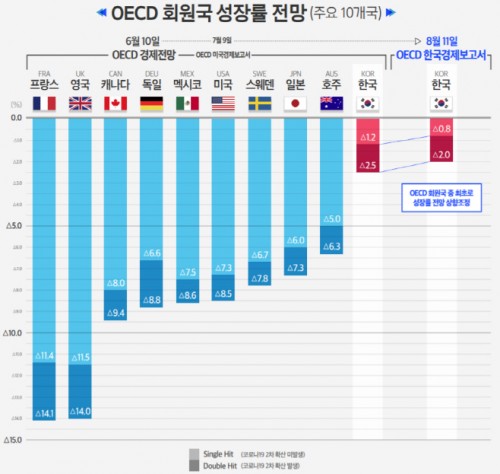 Source: Ministry of Economy and Finance, Organization for Economic Cooperation and Development (OECD)
AsiaToday reporter Lee Ji-hoon
The Organization for Economic Cooperation and Development (OECD) raised its growth outlook for the South Korean economy this year to minus 0.8 percent. Asia's fourth-largest economy became the first among other OECD member nations to have its growth forecast adjusted upward from the international organization's earlier projections announced in June amid COVID-19 pandemic.
In a report titled "OECD Economic Surveys: Korea 2020" announced by the organization on Tuesday, South Korea's economy is expected to shrink minus 0.8 percent this year, higher than the previous forecast of 1.2 percent contraction announced two months earlier.
The OECD publishes a biannual economic report that analyzes the economic conditions and policies of member nations. This year, the publication has been delayed from May to August due to the COVID-19 crisis. The OECD revises its full-year growth forecasts for its member countries on the basis of their second-quarter performances. The report is under a scenario of no more COVID-19 pandemic.
The OECD's growth forecast for the South Korean economy was the highest among 37 member nations. Turkey and Japan each ranked No. 2 and No. 3 with minus 4.8 percent and minus 6 percent, respectively. Germany and the United States trailed behind at No. 4 and No. 5 with minus 6.6 percent and minus 7.3 percent, respectively.
On top of lifting its growth forecast, OECD highlighted South Korea's handling of the COVID-19 pandemic, saying that "South Korea has been among the most successful countries in the world in limiting the spread of the disease without locking down any city or region, which minimized the economic impact." At the same time, it noted that the latest pandemic has "hit employment hard, albeit less than in most other countries."
Regarding the country's expansionary fiscal policy, the organization said, "With general government gross debt at around 40% of GDP, the government has appropriately responded to the COVID-19 crisis by providing additional fiscal support to the economy." The report noted that the government needs a plan to increase revenue to ensure fiscal sustainability since public spending is set to increase in the long run due to population ageing.
The OECD said South Korea needs to maintain a soft monetary policy to shore up the economy. It also pointed out that corporate credit growth has been relatively strong and that household credit growth remains higher than household income growth.
Regarding the real estate market, the OECD said that "housing prices have been stable at the national level," but stressed that financial authorities need to pay close attention to "financial stability risks, such as an over-concentration of capital in the real estate market."
In addition, the OECD explained about the "Korean version of New Deal" in detail and said it had "the potential to support a green and inclusive recovery."