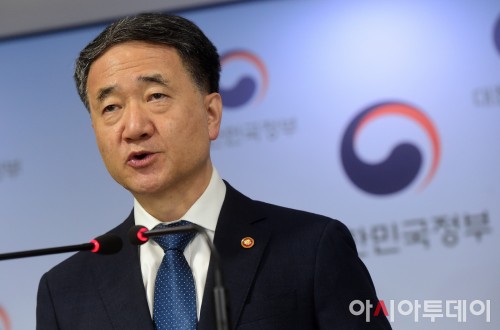 Health Minister Park Neung-hoo speaks during an address at the government complex in Seoul on Aug. 6, 2020./ Source: The Ministry of Health and Welfare
AsiaToday reporter Kim In-hee
A group of doctors in training has threatened to stage a strike on Friday in protest against the government's healthcare workforce reform plan, sparking concerns about its impact on the country's health care service. The government has urged doctors to resolve the issue through dialogue, describing its plan to raise the quotas for medical schools as an inevitable decision for the nation and the people.
On July 23, the government announced plans to train 4,000 more doctors in the next 10 years by increasing the medical student quota by 400 every year from 2022. Young trainee doctors have expressed strong opposition to the announcement and threatened to go on an all-out strike.
The Korean Intern Resident Association (KIRA), a group that represents resident doctors and interns, said its doctors, including resident doctors from all fields including intensive care unit, delivery, surgery, and Emergency Room, will go on strike for 24 hours starting from Friday. The Korea Medical Association (KMA), which speaks for 130,000 doctors, also plans to stage a separate general strike on Aug. 14.
The planned strike has raised concerns as it could affect patients in big medical centers and Emergency Rooms. Although the KIRA said the strike would last for 24 hours, medical vacuum is inevitable in large general hospitals where critically-ill and emergency patients are treated.
One day ahead of the planned strike of trainee physicians, the government asked the medical circles to resolve the issue through dialogue and consultation.
"The government proposes to solve issues in the medical field through dialogue and communication, and to further develop the country's health care system," said Minister of Health and Welfare Park Neung-hoo during an address at the government complex in Seoul.
"Increasing admissions quotas at medical schools is a crucial policy to raise the quality of medical services in rural areas so that no matter where people live, they are able to get quality treatment," Park said. "Increasing the number of doctors and medical scientists in special fields such as infectious disease is the key to increasing admissions quotas. We are never intended to increase the number of doctors in the saturated metropolitan areas."
"In any case, the people's health and safety should not be threatened," Park said. "The government will be ready for all scenarios; however it will take stern actions if the work stoppage harms people's health and safety."
"We understand trainee doctors' demand for an improvement of medical training and the state support. We will make an aggressive effort to improve the environment to enable quality education and discuss ways to support them," he added.