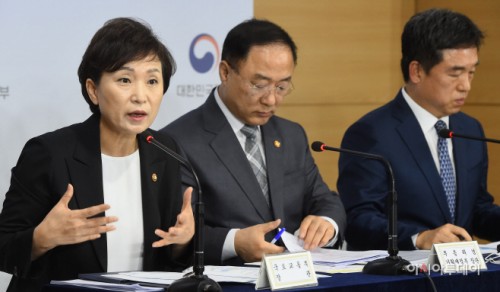 Land Minister Kim Hyun-mee (left) gives a briefing on ways to expand the housing supply in the metropolitan area at the government complex in Seoul on August 4, 2020./ Photographed by Song Eui-joo (songuijoo@)
AsiaToday reporter Lee Chul-hyun
The government is expected to push forward in its latest housing supply plan of providing 260,000 homes in and around Seoul as scheduled, but industry observers remain skeptical of the efforts. While the government's policies are drawing criticism and confusion due to its constantly-changing policies depending on the political situation or the position of local governments, the biggest problem seems to be that it is lacking time to realize its plan.
According to industry observers on Wednesday, the key to the government's latest house supply plan in the metropolitan area is making more land available for home construction mainly by utilizing military facilities and state-owned land, and allowing such projects to build high-rise apartments. The government hopes to stabilize the housing market by increasing the home supply.
However, this is in contrast to what it had said previously. When Land Minister Kim Hyun-mee took office, she had promised to cool heated housing market by tackling speculative property investments, claiming there was no shortage of supply.
"It seems the opposition has worried them, making them change policies," an industry official said. "However, it is too late to announce such policy now and uncertain whether it could be realized. The government thought the real estate market issue was an easy one to solve. That was the biggest mistake."
Some experts point out that the "high-density reconstruction plan" should not be viewed as a simple supply plan, and there must be sufficient social discussion.
"I'm concerned about the current situation where the high-density reconstruction plan has become a goal of the policy," said Lee Eun-hyung, a senior researcher at the Korea Research Institute for Construction Policy. "The government should not ignore that the plan could lower people's quality of life ."
The government's policy is already drawing opposition. Previously, the Seoul city government reversed its position after opposing the high-density reconstruction plan participated by public entities. The government's plan to develop the state-owned Taeneung golf club is facing fierce opposition from Nowon District. The district is demanding a public park in the site that Nowon residents can freely use.
"Even if it's inevitable to supply homes through high-density reconstruction, the government should consider how to resolve side effects that emerge after time," Lee said.