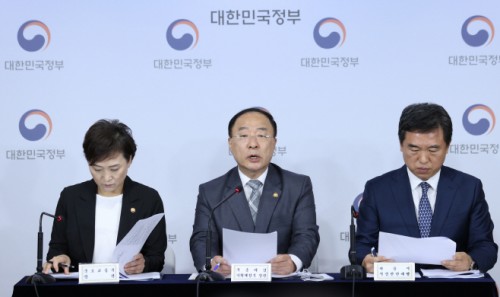 Deputy Prime Minister and Finance Minister Hong Nam-ki speaks at a press briefing at the Seoul Government Complex in Gwanghwamun on August 4, 2020./ Source: Yonhap
AsiaToday reporter Park Ji-sook
South Korea has decided to supply a total of 262,000 new homes in Seoul and its surrounding metropolitan area by adopting a public housing reconstruction system and seeking new sites for development. The government announced Tuesday that it will supply 132,000 additional new homes in the Seoul-Gyeonggi area.
Deputy Prime Minister and Finance Minister Hong Nam-ki, Land Minister Kim Hyun-mee, and acting Seoul mayor Seo Jeong-hyub announced the measures at the Seoul Government Complex on Tuesday.
"There is still anxiety in the market. In particular, people in their 30s are aggressively buying homes," Hong said. "We have come up with the measures to ease fears of shortages and respond proactively to future housing demand. In particular, we have especially tried to seek a balanced solution to supply different types of public homes for houseless and young people."
Of the total 260,000 units, some 70,000 units are the previously announced in May, and some 130,000 home units are additionally announced. The remaining 60,000 are the home units whose pre-sale schedules have been advanced to 2021 to 2022 among the scheduled public pre-sale housing units.
The government plans to offer a total of 50,000 homes by introducing a "high-density reconstruction plan." The project will be participated by public entities such as the Land & housing Corp. (LH) and Seoul Housing & Communities Corp. (SH). Under two-thirds consent of residents, the government will ease re-development rules to supply up to twice the number of existing homes while taking back 50-70 percent of the expanded floor space as donation for public use. Floor area ratios will be allowed to be increased to up to 500 percent. Also, the current height restriction limit of 35 stories for apartment blocks will be raised to 50.
The government will also build some 33,000 new public housing units through development of military-run facilities and unused public land in the Seoul metropolitan area. Around 10,000 homes will be built at the former Taereung Country Club in northern Seoul; and 3,100 in Camp Kim, a military facility in downtown Seoul.
Around 6,200 homes will be built on land previously occupied by state-run organizations, with most of these to be provided to young people and newly-weds. Some 4,000 homes will be made available in Gwacheon, Gyeonggi Province, where Gwacheon Government Complex had been located before it was moved to Sejong.