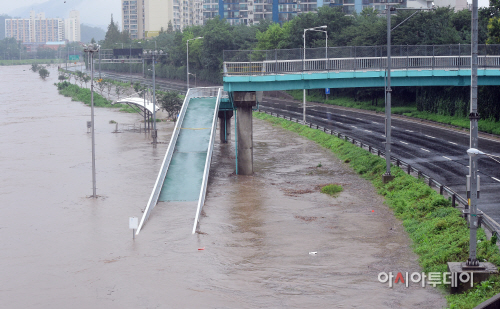 Dongbu Expressway has been completely closed on Monday due to heavy rainfall in the country's capital area./ Photographed by Song Eui-joo
AsiaToday reporter Lee Wook-jae
Heavy rains that hit most of South Korea over the weekend and continued on Monday, leaving at least nine dead and thirteen others missing as of Monday. The rain spell is expected to continue as the country is under the influence of Typhoon Hagupit, the fourth typhoon of the season, putting authorities on high alert to further damage to regions that have already seen significant casualties and property damage.
As of 4:30 p.m. on Monday, nine people had died, thirteen went missing, and seven others were injured since the torrential rain started, according to the Disease and Safety Countermeasures Headquarters under the Minis
North Chungcheong Province and the capital area were hit the hardest, with up to 100 millimeters of rain pouring down per hour. In Chungju, North Chungcheong Province, two were killed in separate landslides. In Jecheon, a camper was killed due to mudslides while a man in his 50s was found dead near a fishing spoit in Eumseong.
In Seoul, a man in his 80s died after being swept under a water stream. In the Gyeonggi Province city of Anseong, a landslide killed a man in his 50s. In Pyeongtaek, south of Seoul, a landslide swept over a temporary building in a factory, killing three workers.
Among the 13 missing people, eight of them were missing in North Chungcheong Province. In Chungju, some 105 km southeast of Seoul, a firefighter went missing after being swept away by swollen river waters, with a search operation still underway.
Damage from torrential rain is growing. Authorities said 1,747 facilities, including roads, houses, and plastic houses have been reportedly damaged. Over 919 people have been displaced from their homes due to flooding and landslides.
While torrential rain is hammering the central part of the country, the national weather agency forecast that heavy rain will continue until Wednesday due to the influence of Hagupit.
Instead of directly hitting the Korean Peninsula, Hagupit is expected to disappear near Shanghai, China, as it is moving gradually northward from Taiwan. It is supplying a large amount of water vapor to the stationary frontline of the Korean Peninsula along the edge of the North Pacific anticyclone. As a result, the central part of the country may receive rain as long as till next Thursday.
Up to now, the country's central part, mainly in Seoul, Gyeonggi Province and the western party of Gangwon Province, has received up to around 250 to 300 millimeters of rain. By Wednesday, some regions are expected to receive up to 500 millimeters of rainfall.
On the other hand, Prime Minister Chung Sye-kyun ordered municipalities and district governments to carry out thorough responses related to damage from the rainfall.