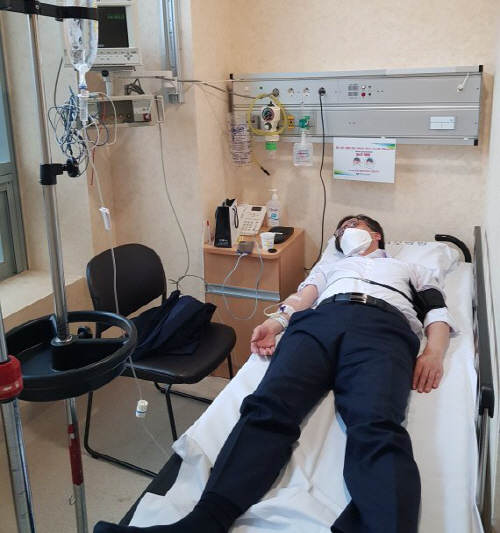 The photo shows prosecutor Jeong Jin-woong being treated at a hospital on July 29, 2020./ Source: The Seoul Central District Prosecutors Office
AsiaToday reporter Lee Wook-jae
Despite the prosecution investigation review committee's recommendation of suspension of investigation into senior prosecutor Han Dong-hoon over the suspected prosecution-press collusion case, the investigation team under the Seoul Central District Prosecutor's Office, led by prosecutor Jeong Jin-woong, raided Han's office to seize his mobile phone on Wednesday.
Han's side claimed that chief prosecutor Jeong Jin-woong attacked him during the search-and-seizure operation, which is expected to cause more controversy.
The investigation team carried out the search-and-seizure at Han's office in Yongin, south of Seoul, to secure the USIM card of Han's mobile phone that it obtained last month.
"We were planning to summon Han and secure the USIM card in a voluntary manner. However, Han did not respond to the summons so we carried out the execution," an official from the investigation team said.
Previously, an investigation review committee composed of external experts reviewed the case as doubts were raised that the collusion case was a maneuver involving whistle-blower surnamed Ji, former Value Investment Korea head Lee Chul, and MBC. As a result, ten of the 15-member review committee voted against probing the senior prosecutor.
However, the investigation team immediately announced its position, saying, "(The committee's decision) is hard to accept." The team eventually carried out the search-and-seizure, ignoring the committee's recommendation.
The problem is that Jeong allegedly assaulted Han during the search-and-seizure. Han strongly insisted that he was physically assaulted unilaterally.
According to Han's side, the investigation team led by Jeong arrived at his office for a search-and-seizure. Then Han asked Jeong for a permission to call his lawyer.
Han argued that he was unlocking his phone to call his lawyer when Jeong suddenly hurled himself over the table between to push Han off the sofa where he was sitting. During the scuffle, Jeong grabbed his arm and shoulder and pressed his face down, Han said.
"There are many witnesses, including other prosecutors and employees from the Legal Research and Training Institute, There is a recording showing Jeong admitting the situation," Han's side said.
In response, the investigation team issued a statement, saying Jeong was being treated in hospital for injuries sustained during the fight, which was triggered by Han's physical interference in the search-and-seizure process.
As both sides admitted that there was a physical conflict during the search-and-seizure process, the controversy is expected to add a new twist to the ongoing investigation of the case.