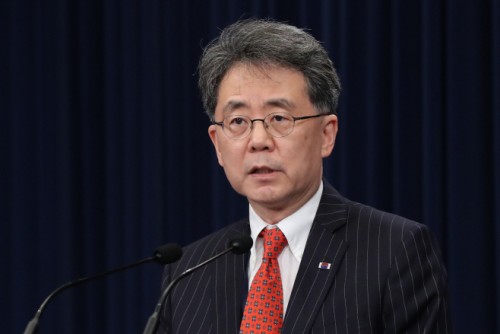 Kim Hyun-chong, South Korea's deputy national security adviser, holds a press briefing on the new missile guidelines at Cheong Wa Dae on July 28, 2020./ Source: Yonhap News
AsiaToday reporter Lee Jang-won
Thanks to a revision to South Korea-U.S. missile guidelines, a restriction on using solid fuel for space launch vehicles has been completely lifted. The deal is expected to help boost the space program of the private sector, creating a significant economic effect. It is also expected to greatly improve the military's surveillance capabilities by being able to develop a military spy satellite within a couple of years.
"Today, (the two sides) have adopted the 2020 revision of the missile guidelines," Deputy National Security Adviser Kim Hyun-chong said on Tuesday in a press briefing. "From now on, all South Korean companies, research institutes and individuals will be able to freely study, develop, produce and possess various types of launch vehicles without any restrictions, including those driven by solid fuel and hybrid engines."
"The revision will be a momentum for the rapid development of the military's intelligence, surveillance and reconnaissance (ISR) capabilities," he said. "We will soon be able to launch low-earth orbit spy satellites based on our own solid fuel propellant anytime and anywhere."
"A systematic foundation to improve our space infrastructure has been created, and a path has been opened for the Korean-version New Deal to expand into space," Kim said.
He said the revision of the guidelines takes the South Korea-U.S. alliance to a new level, taking the scope of cooperation between the two nations to space. "It is the beginning of building a stronger country," he added.
On the issue of raising the range of ballistic missiles which is currently capped at 800 kilometers, Kim said Seoul can discuss altering that restriction with Washington if that's needed for South Korean national security, adding Seoul judged removing fuel restrictions as the more urgent task.
When asked whether the revision is tied to the protracted bilateral negotiations on defense cost-sharing, Kim refrained from commenting directly but ensured nothing was given in return.
Regarding the possibility of North Korea and China reacting sensitively to the revision, he said, "Our neighboring countries have dozens of reconnaissance satellites, but South Korea doesn't have one despite its global military power. I believe we should definitely have it as an independent nation. It's a matter of domestic affairs that we can decide by ourselves."