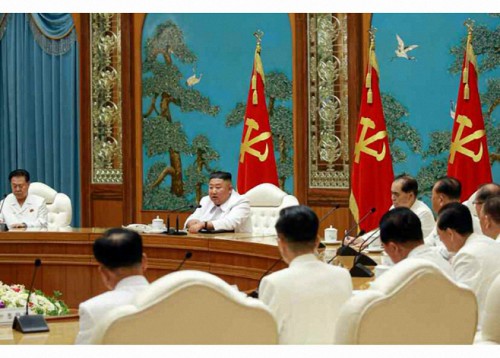 The North's state-run Korean Central News Agency (KCNA) reported Sunday that its leader Kim Jong-un convened an emergency politburo meeting of the ruling Workers' Party and ordered a shift to the highest quarantine alert level and a complete shutdown of the border town of Kaesong after a defector returned home a week ago with COVID-19 symptoms./ Source: Yonhap News
AsiaToday reporter Lee Seok-jong
The South Korean military is under fire for its security vulnerabilities again. Besides, the police's defector management program and surveillance of suspected criminals as well as health officials' management of COVID-19 suspected people are expected to face intense public criticism for a series of security breaches.
On Sunday, the North's Korean Central News Agency (KCNA) and Rodong Sinmun reported that its leader Kim Jong-un convened an emergency politburo meeting of the Workers' Party, and said, "There was an emergency in Kaesong City where a runaway who went to the South three years ago, a person who is suspected to have been infected with the vicious virus (COVID-19), returned on Jly 19 after illegally crossing the military demarcation line."
Regarding the North's report, an official from the Joint Chiefs of Staff said, "Our military has specified some people and is verifying facts in close collaboration with related agencies." He said the JCS is reviewing the military's overall readiness posture, including its monitoring equipment and recorded video clips.
South Korean authorities are known to be looking into a 24-year-old North Korean defector who is currently out of contact, based on the KCNA report that the person had fled the North in 2017.
They have reportedly found that the defector, surnamed Kim, has visited Gimpo, Ganghwa and Gyodong recently.
For this reason, the possibility is high that Kim swam back to the North, instead of using land routes, such as through the heavily fortified military demarcation line separating the two Koreas.
Kim has been put under management of the police for a five-year protection period upon his arrival to the South in 2017. He has been living in Gimpo, west of Seoul.
Kim has been under police investigation over suspicions of raping a female defector last month. He was a suspect under the defector protection program, with COVID-19 symptoms. South Korean military authorities should admit that its border surveillance system has failed to detect or prevent anyone from crossing the border. Besides, the police and health authorities cannot avoid criticism for not keeping close watch on its suspects.