Democratic Party lawmaker Kim Won-yi and the World Hug Foundation's Seo Dae-cheon (right) pose for a photograph after a meeting to discuss ways to better protect Korean adoptees, on July 22, 2020./ Source: Kim Won-yi's office
AsiaToday reporter Ahn Jung-hwan
"For the protection of the rights of Korean adoptees at risk of deportation, I will do my best to come up with measures with related organizations, including the National Assembly, the Ministry of Health and Welfare, the Ministry of Foreign Affairs and the Ministry of Justice," said Democratic Party lawmaker Kim Won-yi on Wednesday.
Kim held a meeting with Seo Dae-cheon, the representative of Asia Region at the World Hug Foundation (WHF), at the National Assembly and discussed ways to solve the issue of Korean adoptees that lack citizenship.
"Considering its economic power and position in the international community, the South Korean government should reach out to those who are wounded by the issue," said Kim. "The Republic of Korea must take care of those adoptees that are born in South Korea but not welcomed in either South Korea or the United States," he added.
"There are as many as 35,000 of those adopted to the U.S. from overseas not holding US citizenship. That number includes some 20,000 South Koreans," Seo said.
"The South Korean government is very responsible for the overseas adoption process that changes the whole life of young people who are born in Korea," he said. "The government needs to offer them financial support so that they overcome anger and depression, and help them until they successfully obtain US citizenship," he added.
"Many Korean adoptees deported from the United States due to the failure to get American citizenship face economic and cultural challenges. Some of them even commit suicide," Seo said. "A lot of support and attention from the National Assembly and the government is urgent to solve the issue of Korean adoptees," he added.
"The government needs to take active measures as many Korean adoptees are being deported and becoming stateless," Kim said. "We will look closely to seek ways for cooperation at the parliamentary level."
Meanwhile, the World Hug Foundation is a non-profit organization that offer support to adoptees at risk of deportation so they can obtain US citizenship. It was established in April 2017 after Philip Clay, also known by his Korean name, Kim Sang-pil, took his life five years after being expelled to South Korea and failing to settle down due to language and cultural barriers.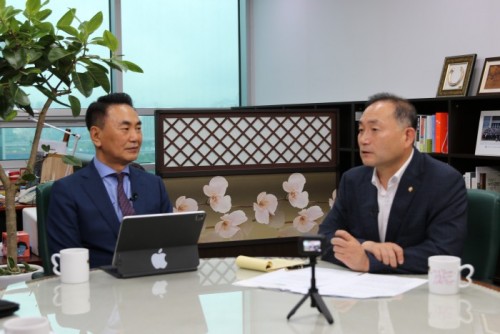 Democratic Party lawmaker Kim Won-wi talks with Seo Dae-cheon (left), representative of the Asia region at the World Hug Foundation, to discuss ways to better protect overseas adoptees, on July 22, 2020./ Source: Kim Won-yi's office