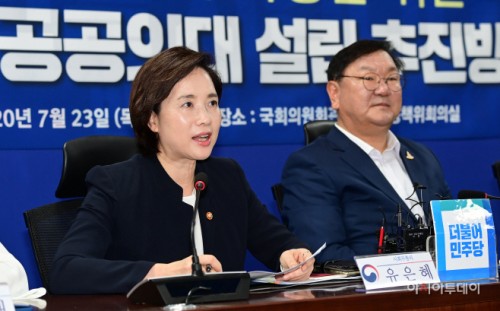 Deputy Prime Minister and Minister of Education Yoo Eun-hae speaks at a policy coordination meeting between the government and the ruling Democratic Party in Seoul on July 23, 2020./ Photographed by Lee Byung-hwa
AsiaToday reporters Joo Sung-sik & Lee Joo-hyung & Kim Ye-seul
The government has decided to expand medical school admission quotas by 4,000 over the next years in order to cope with shortage of doctors in special fields, such as trauma surgeons, and to narrow the regional gap in medical service availability.
The government also plans to establish a new public medical school that focuses on fostering experts related to epidemiological surveys and infectious diseases.
However, the Korea Medical Association (KMA), an interest group that represents 130,000 doctors, heavily protested the government's plan and warned that it would stage a nationwide strike in August.
The government announced the plan during the Ministerial Meeting for Social Affairs for an Inclusive Nation chaired by Deputy Prime Minister and Minister of Education Yoo Eun-hae at Sejong Government Complex on Thursday.
The plan aims to expand the admission quotas at medical schools to meet provincial areas' needs and to foster specialists and medical scientists to respond to infectious diseases and develop bio-health industry. It is the first time since 2006 the country has increased the admission quotas for medical schools.
First, the government plans to tentatively expand the admission quota for medical schools to recruit 400 more freshmen every year for ten years, starting from the 2022 school year. Of the total 4,000 freshmen that will be additionally recruited over the decade, some 3,000 will be selected as regional doctors. Once they acquire their medical license, they will be obliged to work at public medical institutes or at medical centers that are tasked with treating serious diseases. The remaining 1,000 of the new recruits will be obliged to work in medical science research areas.
In addition, the government has decided to pursue the establishment of a public medical school by March 2024 in Namwon, North Jeolla Province, on the site where Seonam University was recently closed down. Seonam's 49 medical students will be the first group of students to study in the new public medical school.
However, the government faces strong opposition from the KMA over the plan. The KMA held a press conference in front of the National Assembly in Seoul, urging the government to roll back its decision. "Expanding medical school admission quotas cannot narrow the regional gap in medical service availability or solve the shortage of specialized medical personnel," it said in a statement. It claimed that a lack of medical personnel in some provinces as well as some medical areas is not because of a shortage of doctors but because of a failure in health and medical policies.
The KMA said the government had no analysis of why Korea failed to provide essential medical care and provincial care sufficiently but came up with a political, populist approach. The group threatened to stage a general strike either on Aug. 14 or 18 in protest against the decision.