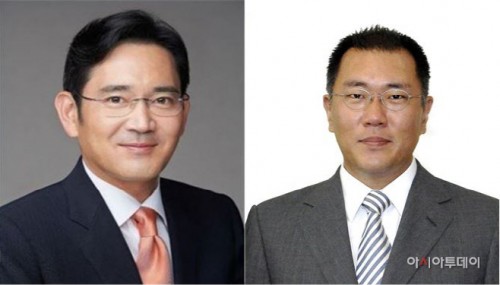 Samsung Group Vice Chairman Lee Jae-yong (left) and Hyundai Motor Group Executive Vice Chairman Chung Eui-sun/ Source: Samsung Electronics • Hyundai Motor Group
AsiaToday reporter Choi Won-young
Heirs of South Korea's two biggest conglomerates – Samsung Electronics and Hyundai Motor Group – officially met on Tuesday at the Namyang R&D Center, Hyundai's hub for future mobility technologies. Given that the two leaders met for the second time this year to check each other's key technologies, industry officials believe the two conglomerates have shown strong willingness for business partnerships on development of next-generation vehicles and automotive solutions.
Samsung heir Lee Jae-yong and his top executives visited Hyundai's Namyang R&D Center to discuss ways to cooperate in the future automotive and mobility sectors with the management of Hyundai Motor Group. The meeting was arranged in response to Hyundai Motor Group heir Chung Eui-sun's visit to Samsung SDI's battery plant in Cheonan in May, to check Samsung's all-solid-state battery technology.
This time, Lee was accompanied by Kim Ki-nam, the vice chairman of the semiconductor division, Kang In-yup, president of System LSI, Jun Young-hyun, CEO of Samsung SDI and Hwang Sung-woo, president of Samsung Advanced Institute of Technology. Welcoming the visitors along with Chung was Seo Bo-shin, president of Hyundai Motor in charge of products, and Park Dong-il, vice president of the carmaker. The key technology experts of both sides had a meeting together, except for Hyundai Motor Group's R&D division chief Albert Biermann, who was unable to attend due to his business trip.
Built in 1995, the Namyang R&D Center is the country's largest R&D facility for automobile technologies, and employs about 14,000 researchers and engineers.
The executives of Samsung were briefed on Hyundai Motor's future technologies and products related to electric and hydrogen vehicles, urban air mobility (UAM), and robotics, according to the company. The Samsung executives also test-drove an autonomous car and a hydrogen electric vehicle under development by Hyundai during a tour of the R&D facility.
Samsung Electronics acquired Harman International Industries in 2017 as part of its plan to expand in o the automotive parts sector. Industry insiders say the latest meeting will be a good opportunity for the two to seek collaboration in the fast-growing mobility sector. Many observers believe that the two group's cooperation won't be limited to electric car batteries, but probably leading to building future cars and developing mobility solutions.