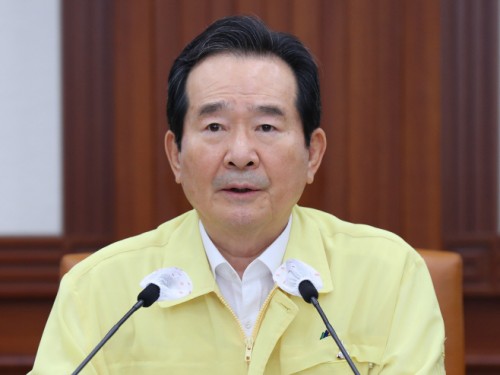 Prime Minister Chung Sye-kyun
Prime Minister Chung Sye-kyun announced a more cautious approach on Sunday to the idea of opening up greenbelt zones in the Seoul metropolitan area as a part of the government's real estate policy to tackle soaring housing prices.
Over the past week, senior public and ruling Democratic Party (DP) officials, including Chief Presidential Secretary for Policy Kim Sang-jo, Finance Minister Hong Nam-ki, and DP lawmaker Cho Eung-cheon, have said that the government will consider lifting greenbelt restrictions.
The focus is now on how the government and the ruling party will iron out the differences as the prime minister called for caution regarding real estate measures.
In an interview with the local broadcaster KBS on Sunday, Chung made it clear that the government has yet to finalize its decision on whether to lift the greenbelt restrictions in Seoul and its surrounding areas.
Regarding the Seoul city's lifting of greenbelt zone restrictions, the prime minister said, "It is right to make a very careful approach," warning they can't be restored once damaged.
When asked if it is possible to lift the greenbelt zone restrictions under the authority of the Minister of Land, Infrastructure, and Transport despite the Seoul city government's opposition, Chung said, "I am uncertain whether it is legally possible, but I don't think it is appropriate to carry out policy measures in such manner."
"We are at a stage where we are reviewing all possibilities," Chung said. "We will develop and announce defined policy measures, rather than measures hastily cobbled together, as soon as possible."
"It is inappropriate for policymakers to make a flurry of remarks on policy measures that are not finalized. It is not appropriate since those remarks could confuse the public and give a wrong signal to the market," he added.
Amid growing public anger at the government's latest real estate measures, the prime minister said, "What's serious is that there are no happy people with the real estate issue. The government is well aware of the needs for special measures."