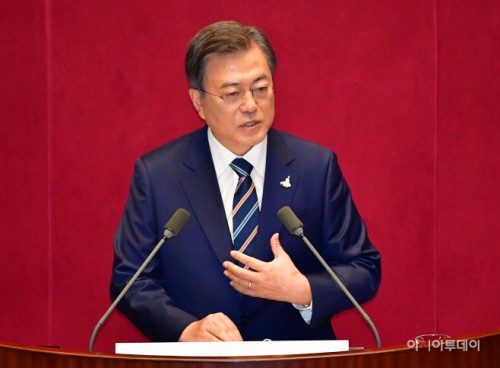 President Moon Jae-in delivers a speech at the opening ceremony of the 21st National Assembly in Seoul on July 16, 2020./ Photographed by Lee Byung-hwa
AsiaToday reporter Lee Seok-jong
President Moon Jae-in revealed Thursday that his government will continue efforts to "make it clear that it is no longer possible to make a profit out of real estate speculation."
"The government will push for every necessary means to curb property speculation and stabilize housing prices," Moon said during a speech at the opening ceremony of the 21st National Assembly.
The president urged the Assembly to establish relevant laws, saying, "The most pressing livelihood-related task now is real estate measures."
"The government will elevate financial burden for multiple homeowners and raise the transfer tax," he said. "On the other hand, the government will seek ways to reduce burden for single homeowners and offer price stability for actual end users."
"We will listen to the voice of opposition parties demanding the expansion of housing supply and actively take necessary measures," Moon said.
The president called for the Assembly's cooperation, saying, "The government's real estate measures are incomplete without the Assembly's legislative support."
He also asked for lawmakers' cooperation and compromise for his New Deal project aimed at overcoming the COVID-19 crisis and becoming a leading nation in the post-coronavirus era.
"In order to make the Korean version of the New Deal initiative successful, parliamentary cooperation is essential," Moon said. "The government will provide full support to the National Assembly if it suggests a good idea to spread the Korean New Deal project to regional countries," he added.
Moon's latest speech placed a focus on "communication" and "cooperation."
To this end, the president said, "We will expand the scope of communication with the National Assembly in a variety of ways without insisting on the form of dialogue, including the resumption of a joint consultative body with the ruling and opposition parties and the government. The three sides will meet on a regular basis to build trust. Based on trust, we will discuss and promote current state affairs."
Moon also urged the rival parties to wrap up the legal process at an early date to choose the head of a special agency tasked with investigating corruption among high-ranking public officials. "I hope that the 21st National Assembly completes the reform of power institutions," he said.