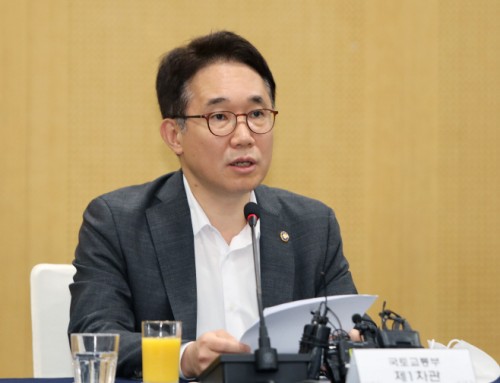 Vice Land Minister Park Sun-ho speaks during a task force team meeting for housing supply expansion held at the Seoul Metropolitan Government Office on July 15, 2020./Source: The Ministry of Land, Infrastructure and Transport
AsiaToday reporter Choi Joong-hyun
The government is considering opening up greenbelt zones to make more land available for housing in the metropolitan area.
"We will seriously discuss various measures that have not been reviewed, such as the possibility of using greenbelts around the city," said Vice Land Minister Park Sun-ho during a task force team meeting for housing supply expansion held at the Seoul Metropolitan Government Office on Wednesday. "Every possible alternative to expand housing supply will be put on the table for discussion," Park said.
The task force team, led by Vice Minister Park Sun-ho, is consisted of the Ministry of Land, Infrastructure and Transport, the Ministry of Economy and Finance, and the Seoul city, Gyeonggi and Incheon regional governments.
The government announced measures to supply housing in the Seoul metropolitan area on July 10, which includes easing city planning regulations for high-density urban development, raising floor area ratio for Phase III new towns, redeveloping old homes, and recycling vacant offices.
DP lawmaker Cho Eung-cheon, a member of the Land, Infrastructure and Transport Committee, held a closed government-ruling party consultation session and said the committee discusses the possibility of lifting the bans on the greenbelt zones.
As a result, both the government and the ruling party agreed to review opening up greenbelt zones to supply more homes in the capital city and adjacent areas.
Earlier, there was a gap in tone between agencies handling the measures over lifting the construction ban in greenbelt areas, creating controversy.
On Tuesday, Finance Minister Hong Nam-ki said that he is reviewing five or six different measures to supply more homes and is open to the possibility of lifting the bans on the greenbelt zones following the review, if necessary.
But early Wednesday, Vice Land Minister Park Sun-ho took a more cautious stance on the greenbelt issue in a radio interview with CBS, saying, "We are not considering lifting the bans on the greenbelt zones to expand housing supply. We have not even discussed the issue with Seoul City."