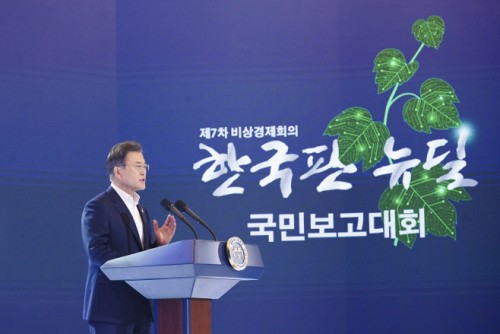 President Moon Jae-in delivers a speech on the Korean New Deal during an event at Cheong Wa Dae on July 14, 2020./ Source: Yonhap News
AsiaToday reporter Lee Jang-won
President Moon Jae-in on Tuesday declared the beginning of the Korean version of the New Deal to transit into a world-leading nation in the post-coronavirus era. Moon promised an unprecedented scale of investment in the Korean version of the New Deal. The government pledged to inject some 160 trillion won by 2025 to create 1.9 million jobs through the New Deal initiative.
Moon held a Cheong Wa Dae event to declare a concrete vision and masterplan for his administration's new signature policy drive. The initiative has become a national development strategy nearly three months after the president revealed its concept back in April to help overcome the COVID-19 crisis and prepare for the post-coronavirus era.
Moon described the New Deal as the "declaration of the Republic of Korea's grand transformation to take a leap to a pacesetting nation," and explained that it will be the country's new "blueprint for next 100 years." He said the initiative consists of two main pillars - Digital New Deal and Green New Deal – along with projects on the sidelines to strengthen social safety nets. He said the deal seeks to fundamentally change South Korea from a "follower economy" to a "pacesetting" one, a carbon-reliant economy to a "low-carbon" one and from an "unequal society" to an "inclusive" one.
Above all, the president confidently vowed "tangible changes" by the end of his term. His government plans to inject 68 trillion won, including 49 trillion won from the central government budget, into the project by 2022, when the president's five-year term finishes.
The president expressed his strong will to create jobs and achieve employment security, saying, "The Korean version of the New Deal has a special emphasis on expanding safety nets and investing in people." He revealed that the government will gradually expand the national employment safety net and completely abolish the standard of dependents by 2022 while providing sickness benefits from the National Health Insurance as a pilot project.
By 2025, the government expects to create 1.9 million jobs from the initiative - 900,000 jobs from Digital New Deal projects, 660,000 jobs from Green New Deal projects, and 340,000 jobs from strengthening safety nets.
The government has selected 10 main projects for the initiative – data dam, artificial intelligence government, smart medi-care infrastructure, green remodeling, green energy, environment-friendly future mobility, green smart school, digital twin, SOC digitalization and smart green industrial complex. In addition, it revealed detailed plans to develop non-face-to-face industries as well as AI and 5th generation (5G) technologies, and strengthen new energy and green industries.
The meeting was attended by Deputy Prime Minister and Finance Minister Hong Nam-ki, the ruling Democratic Party's chief policymaker Rep. Cho Jeong-sik, and business leaders including Hyundai Motor Group Executive Vice Chairman Chung Eui-sun and Naver CEO Han Seong-sook.